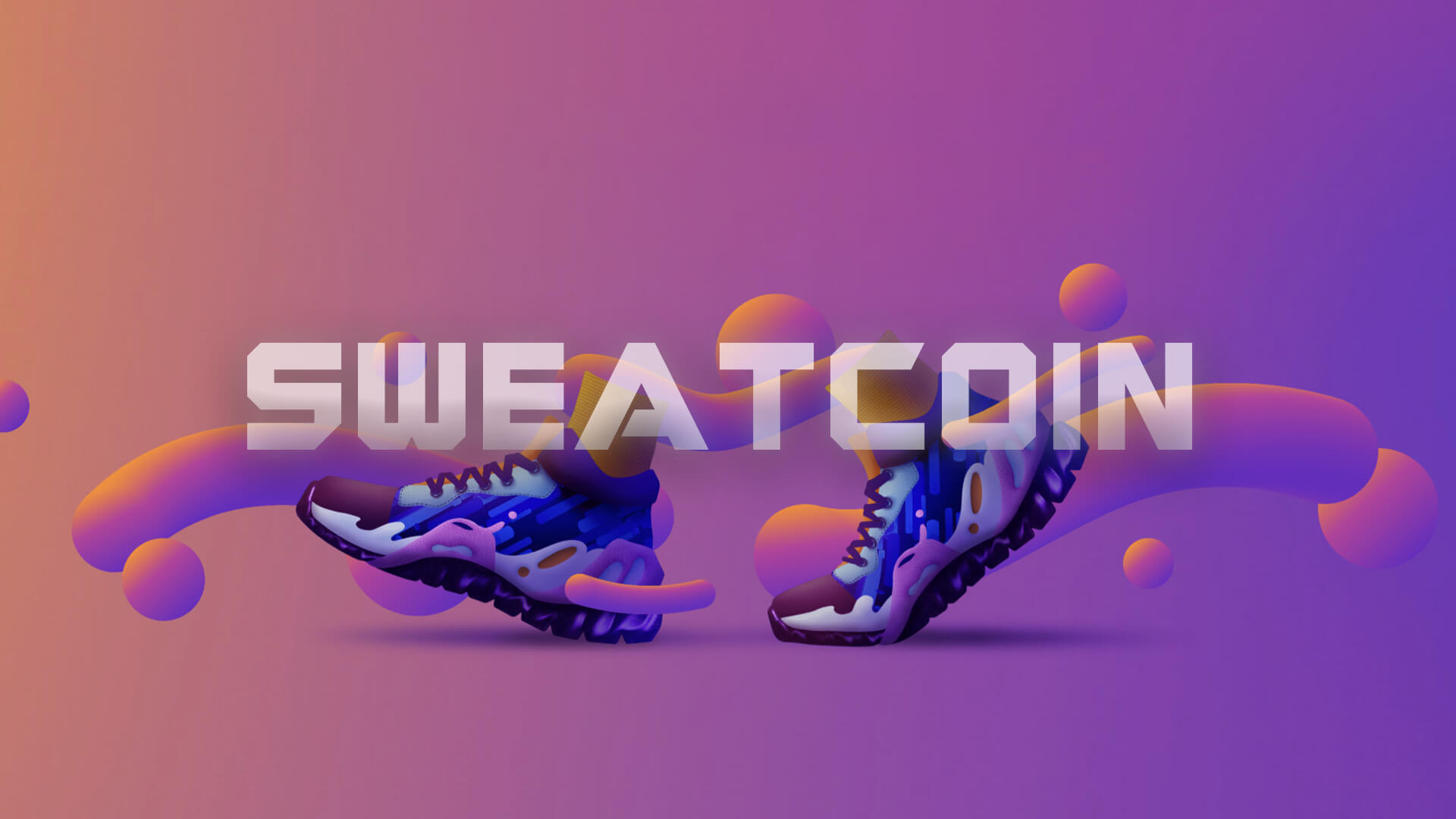 What is Sweatcoin? How to Sell Sweatcoin to USD and App Review
Move to Earn (M2E), including STEPN, the time has come for you to earn money while exercising!
Have you been thinking that you need to exercise for your health, but have been putting it off because it is too much of a hassle?
However, if you can get paid for exercising, it may be a different story.
The problem with existing services such as STEPN was the high barrier to entry, requiring $1000 to enter. In addition, it is not clear whether the money can be recovered, which can be a cause for concern.
For those people, I recommend Sweatcoin, which I will introduce here.
Sweatcoin is a Move to Earn application that anyone can easily start for free.
In this article, we will explain the overview of Sweatcoin, how to earn money, and how to get started, so please refer to it.
Sweatcoin has also been selected for the following summary article.
What is Sweatcoin?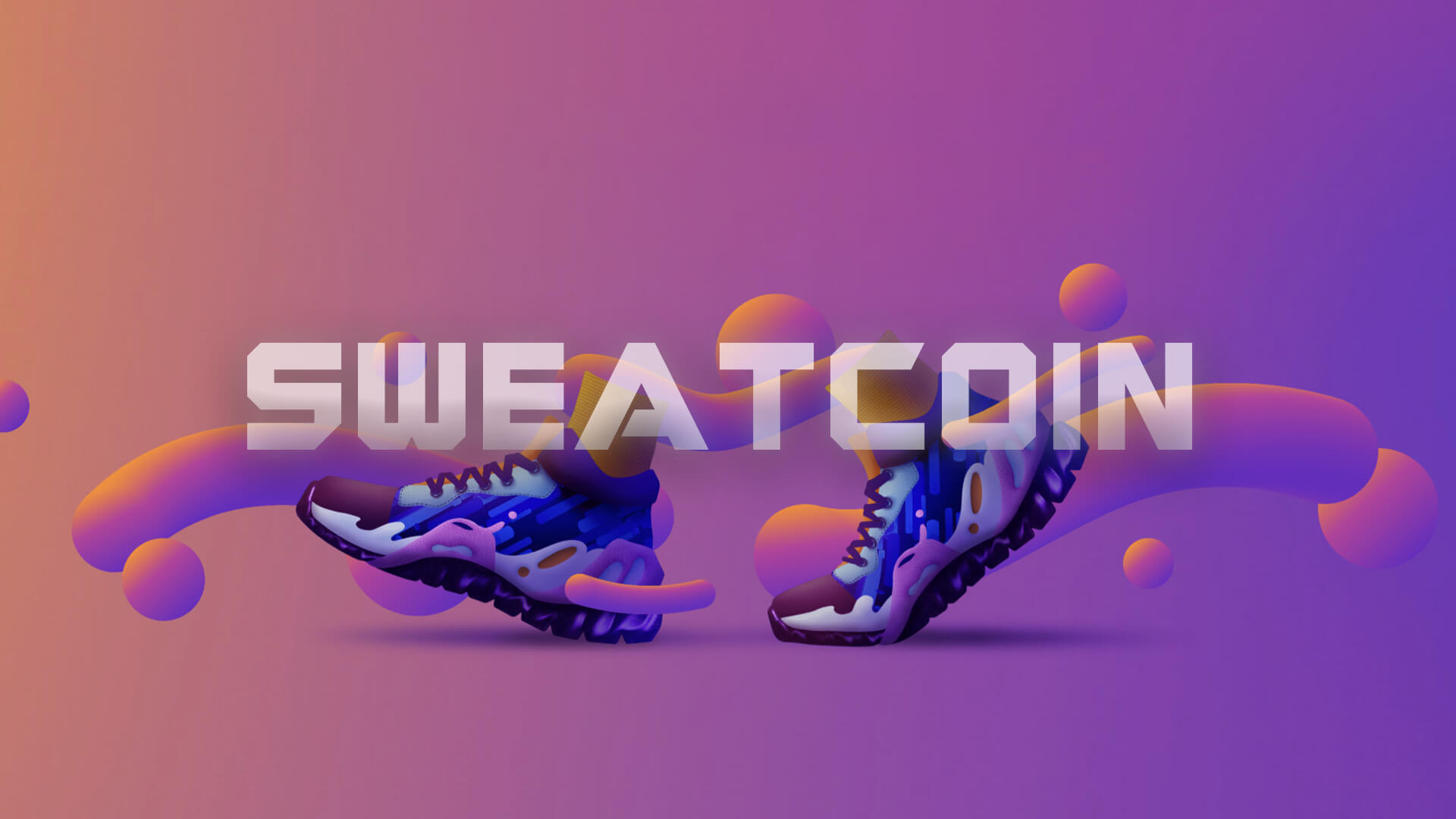 Sweatcoin allows users to earn Sweatcoin based on the number of steps they take each day, and the Sweatcoin they earn can be used or exchanged for various items within the app.The app has been downloaded more than 60 million times worldwide, making it a relatively reliable app.
It can also be used in conjunction with other Move to Earn apps such as STEPN and Genopets to double up.
~cara bermain~
Sweatcoin has two apps and two tokens.
M2E app Sweatcoin and in-app currency Sweatcoin
Wallet app Sweat Wallet and crypto currency SWEAT token
How to use M2E App Sweatcoin and In-app Currency Sweatcoin
With the Sweatcoin app, users can receive in-app currency Sweatcoin based on daily step counts, etc., and a portion is converted into SWEAT tokens.
Basically, the in-app currency Sweatcoin and SWEAT tokens are converted 1:1 (with some exceptions).
Sweatcoin can be used in the following ways.
Use in stores and auctions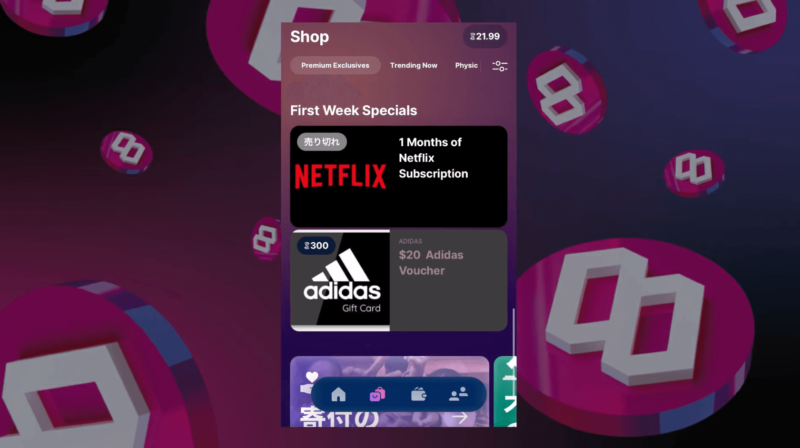 Sweatcoin balances can be used for merchandise redemption or discount coupons.
Addidas $20 discount coupon
Amazon gift card
One month subscription to Netflix
A $10 PayPal balance
Other partner brand discount coupons and merchandise vouchers
and more. They plan to support numerous services and products in the future.
The app also offers auctions, where you can use your Sweatcoin balance to participate in auctions and win products.
Donate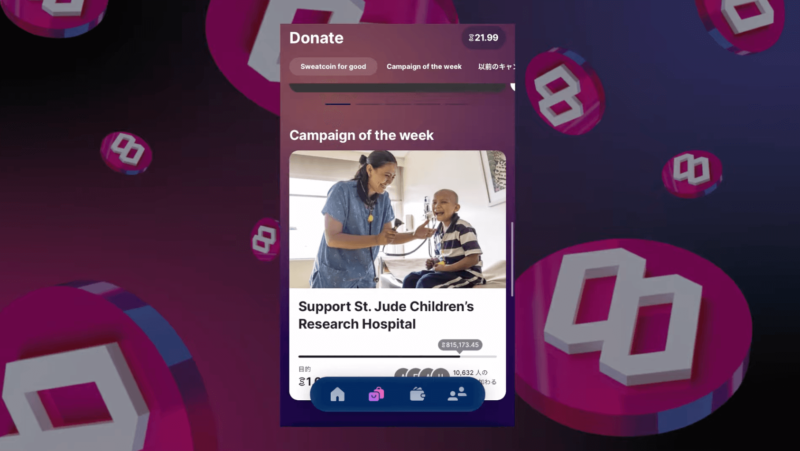 Sweatcoin can also be donated outright.
You can choose from a variety of donation recipients and enter the amount you wish to donate from your wallet balance.
Convert to cryptocurrency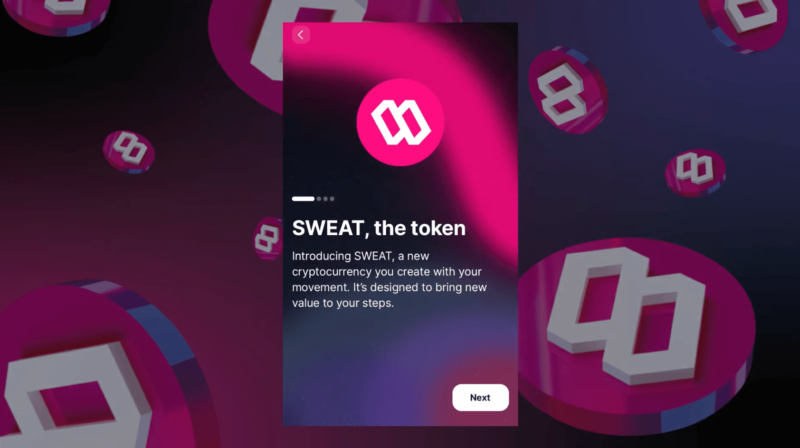 Some of the sweatcoin in your wallet balance will be converted to SWEAT tokens.
SWEAT tokens can be sent to exchanges for redemption.
A separate application, Sweat Wallet, is required to redeem SWEAT tokens.
How to use Sweat Wallet App and cryptocurrency SWEAT tokens
SWEAT tokens converted with the app Sweatcoin can be managed with this wallet app Sweat Wallet.
However, some SWEAT tokens are locked and will be gradually unlocked over 24 months.
SWEAT tokens are primarily used in the following ways.
Send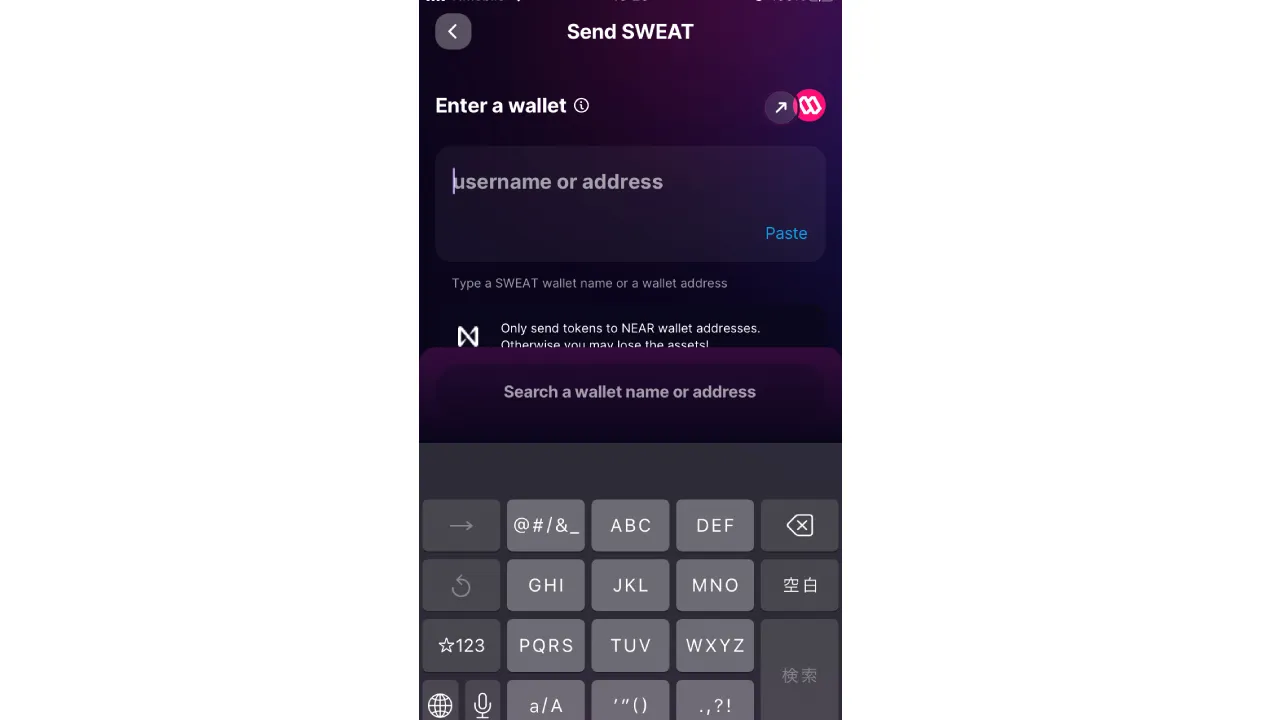 SWEAT tokens can be sent to external wallets or exchanges using the Sweat Wallet.
SWEAT tokens are coins developed by the NEAR Protocol and can be bought and sold on exchanges such as Bybit.
You can send them by entering the NEAR Protocol address.
Staking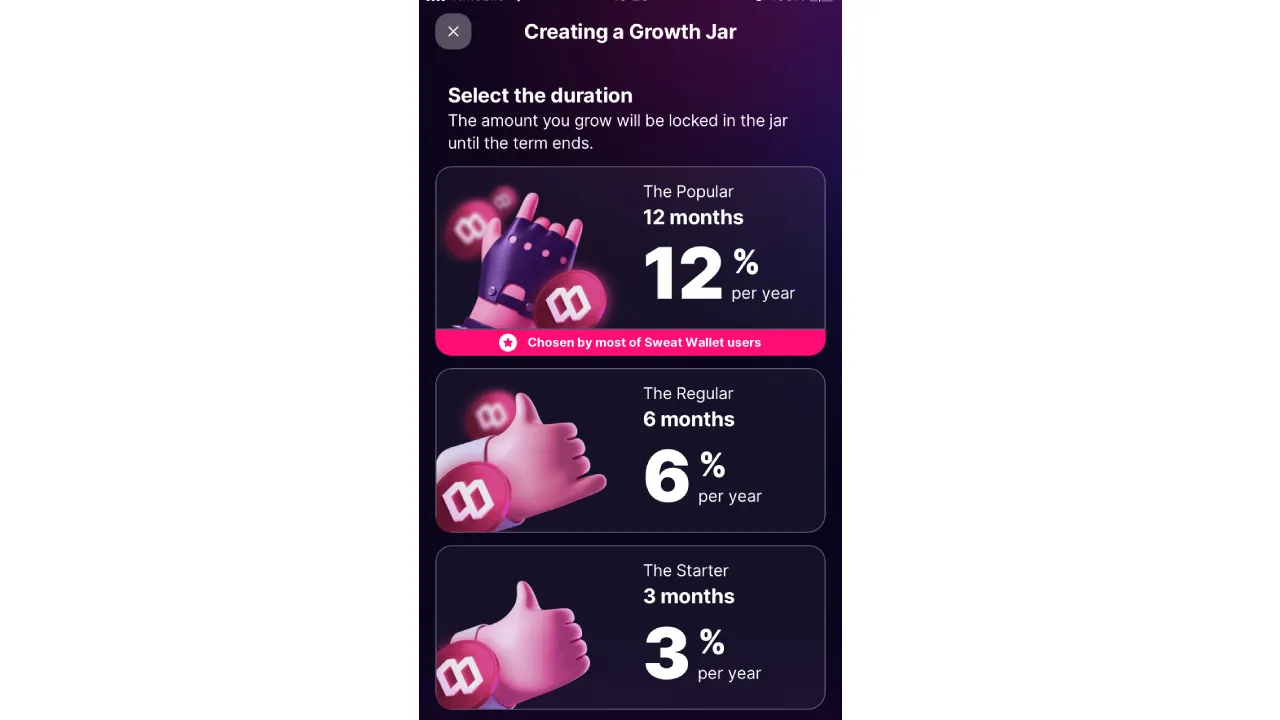 The following three types of staking are available depending on the lock period
3 months: 3% per year
6 months: 6% per year
12 months: 12% per year
Rewards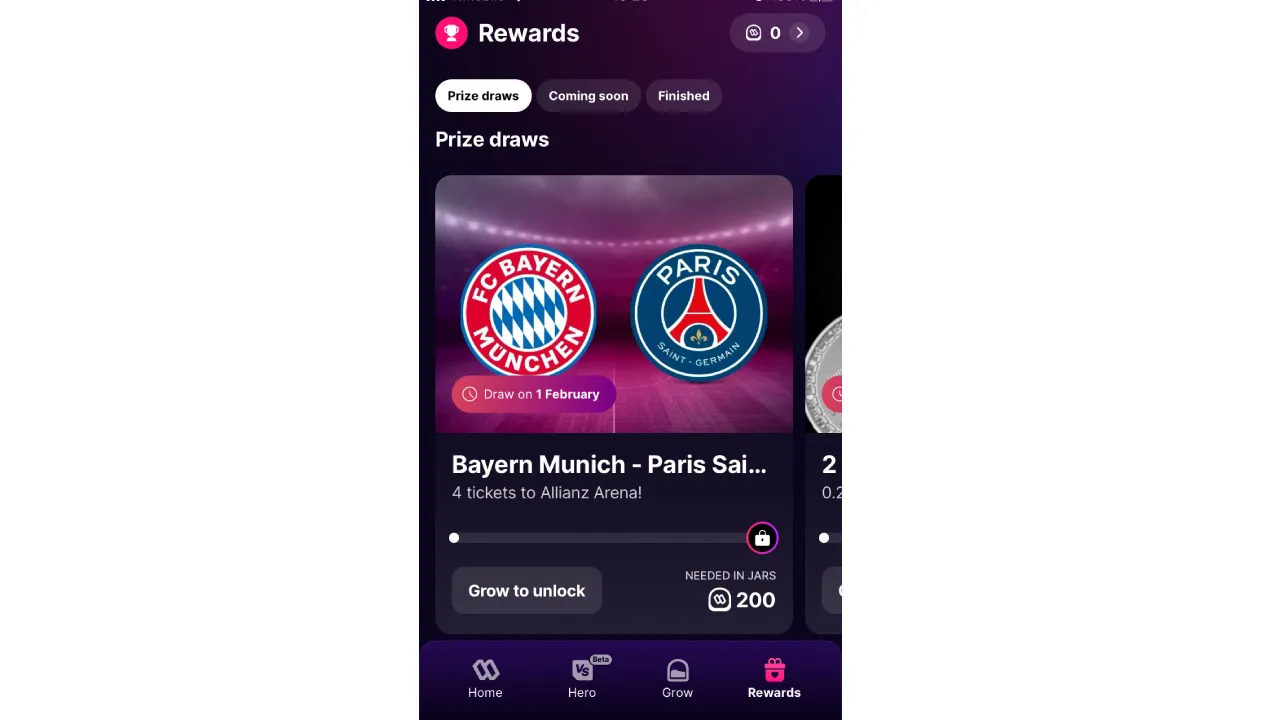 By paying a certain amount of SWEAT tokens, you can participate in a raffle to win luxury items.
Mac Book
Soccer tickets (Paris Saint-Germain and Bayern Munich)
and more.
How to Earn
Here is how you can earn money with Sweatcoin.
There are four main ways to earn money with Sweatcoin.
Earn rewards by walking
Participate in challenges
Watching ads and earning coins
Staking
Earn rewards by walking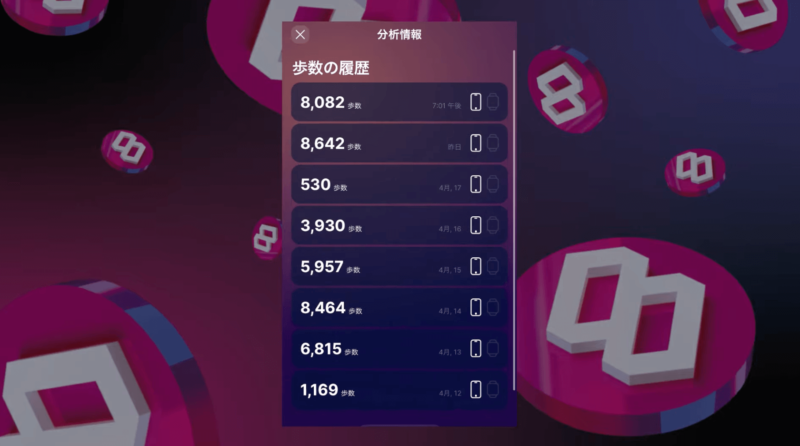 The main way to earn money is through rewards based on the number of steps taken.
1 Sweatcoin = 1 SWEAT is generated for every 1000 steps, but it will gradually become more difficult to obtain, i.e., it will require more steps. Since the first mover has the advantage, it may be a good idea to start saving up now.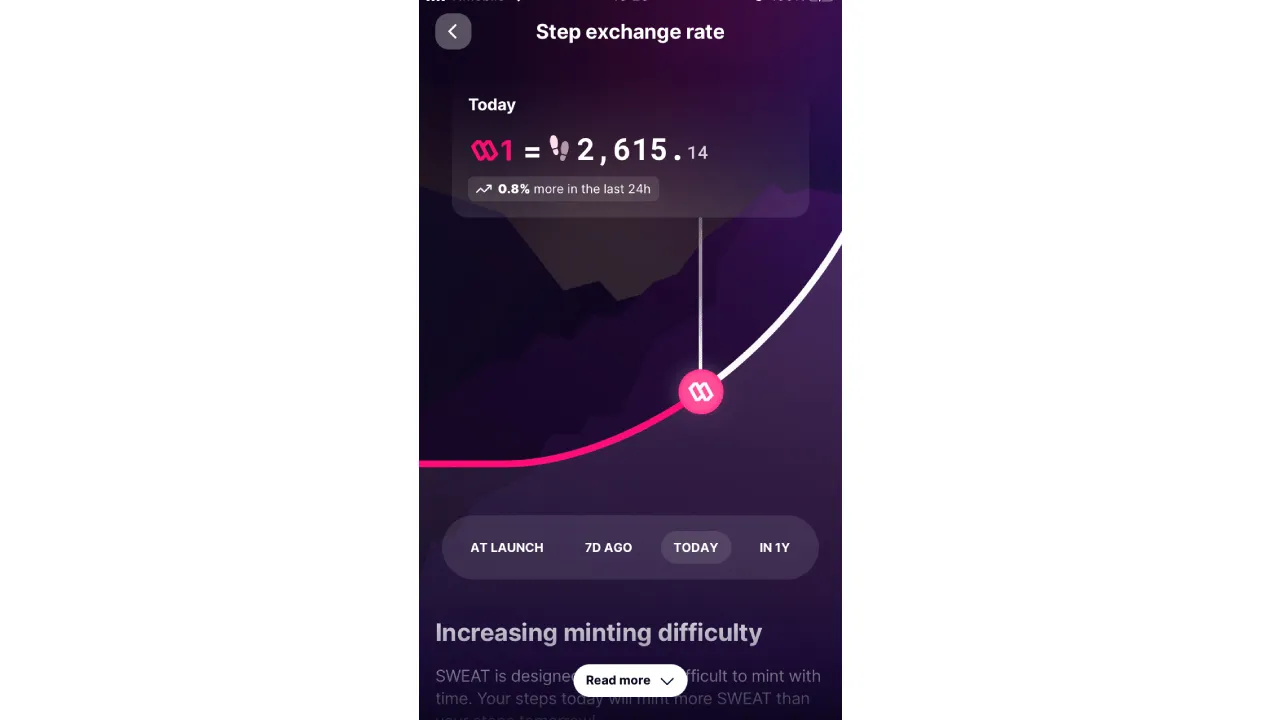 As of January 2023, it takes 2614 steps to get 1 SWEAT.
A 5% processing fee is deducted, but you can also use the double reward boost, which is only available for 20 minutes each day, and during this time you can earn coins at a discount.
However, there is a daily SWEAT earning limit.
In addition to the regular Free Plan, which is available for free, there are also Premium Plans available for a monthly or annual fee, each with different requirements.
Free Plan
Basically, the in-app currency Sweatcoin and SWEAT tokens are converted 1:1, but after the first 5000 steps (the maximum SWEAT token acquisition) are converted, it will be 1 Sweatcoin for every 1000 steps.
Completely free
Earning limit of 5000 SWEAT tokens per day is 5000 steps
After the first 5,000 steps are converted to SWEAT, you will earn 1 Sweatcoin for every 1,000 steps you take, up to a maximum of 10,000 steps per day
Regular Marketplace and Auction
Premium Plan
Maximum of 6000 steps per day
Double reward boost for each additional 1,000 steps per day
Unlimited by removing the per diem cap.
Premium marketplace with special offers
Double the donation amount
Custom application icons
Participate in challenges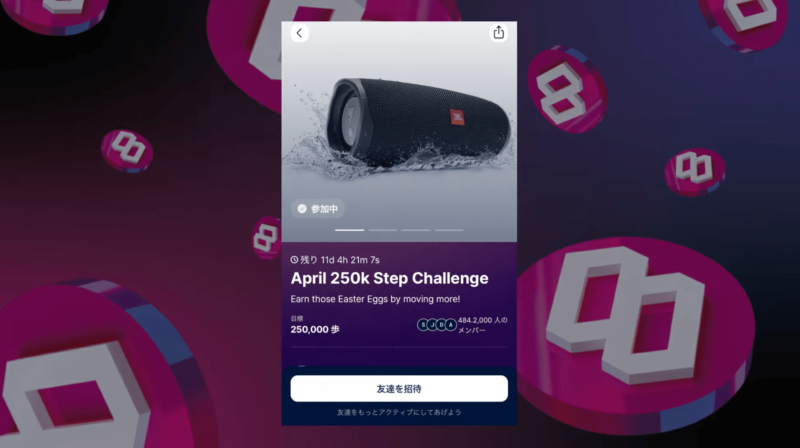 Challenges allow you to take on various campaigns, such as completing a set number of steps within a set period of time.
Successful completion of the challenge will give you a chance to win Sweatcoin and products.
Watching ads and earning coins
By watching the ads, you will earn 3 Daily Rewards each day.
When you finish watching the ads, you will randomly earn Sweatcoin from 0 to 1000.
You can get rich quick, so make sure you do it every day!
How to start Sweatcoin
Getting started with Sweatcoin is very easy.
Download the application from the URL below.
After that, log in with your email address and you are done.
How to Sell (Sweatcoin to USD)
The main 3-step process to redeem the money is as follows
STEP 1. download Sweat Wallet
Download Sweat Wallet and link it to your Sweatcoin account.
STEP 2. send to the exchange's deposit address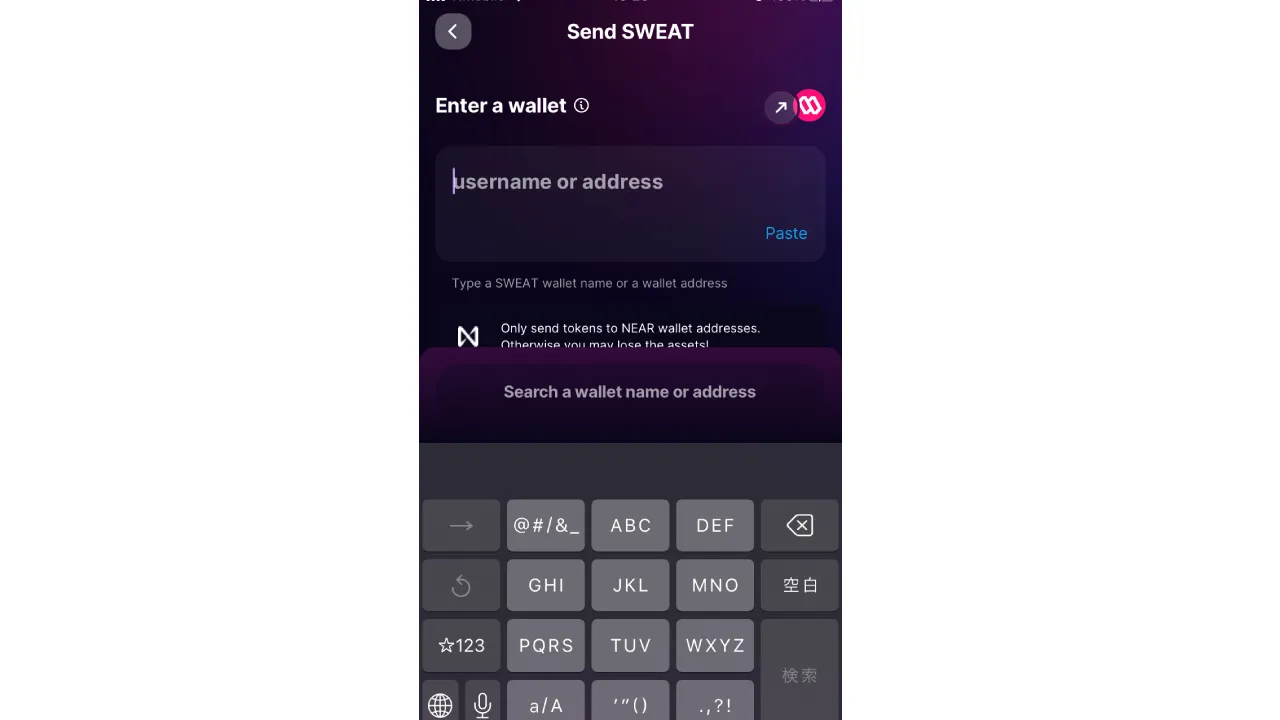 Select Transfer→Send in Sweat Wallet to send the SWEAT tokens to the exchange's NEAR Protocol deposit address.
SWEAT tokens are listed primarily on the following exchanges
Bybit
OKX
Bitfinex
KuCoin
STEP 3. exchange with other cryptocurrencies on an exchange
Exchange SWEAT to USDT or other cryptocurrency at an exchange.
Summary
Sweatcoin is free and easy for anyone to use.
Sweatcoin can be exchanged for SWEAT tokens, which can be exchanged on exchanges such as Bybit.
The amount of money you can earn is not that much, but you can start with almost zero risk, so why don't you download it to try it out?
We hope you find this article useful.
Mint Your Free NFT Badge and Enter Our Exclusive Giveaway – Limited Time Offer!
Mint your own SGG NFT Badge today and join the exclusive SGG member community! And that's not all – only SGG NFT Badge holders will be able to participate in our exciting Giveaway project! So don't miss out on this exclusive opportunity to win valuable rewards.
Our NFT badges are issued automatically by the SGG app and are based on the ERC-4907 standard, an upgraded version of ERC-721. By keeping your SGG NFT Badge in your wallet, you'll gain access to all of the amazing features of the SGG app, including NFT Lending, NFT Auction, Gacha, and more.
Ready to start monetizing your NFTs and enjoying the exclusive benefits of SGG membership? Mint your SGG NFT Badge today and join the revolution of NFT-based gaming!
JOIN Samurai Guild Games! Read here <https://samuraiguild.io/guide-to-enter-samurai-guild-games-giveaways/>