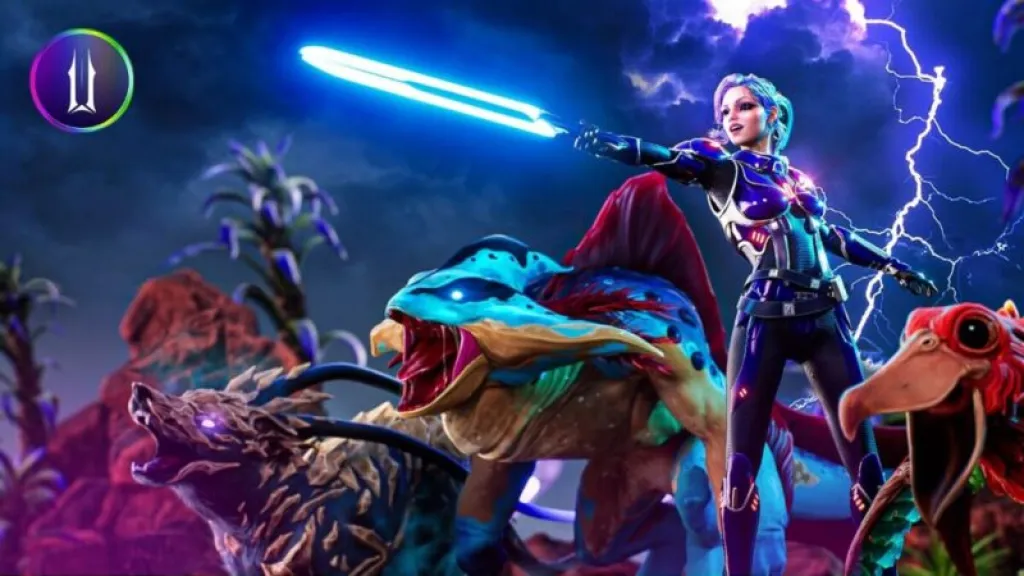 Illuvium Crypto(Token) Game Review: How to Buy Land
Are you curious about what kind of NFT game Illuvium is? Illuvium, which is currently not officially launched as of December 2022, allows for the buying and selling of virtual currency and NFTs, as well as staking, within the game. In this article, we will explain how to get started with Illuvium and ways to earn money based on what we currently know about the game.
Illuvium has also been selected for the following summary article.
Latest Information about Illuvium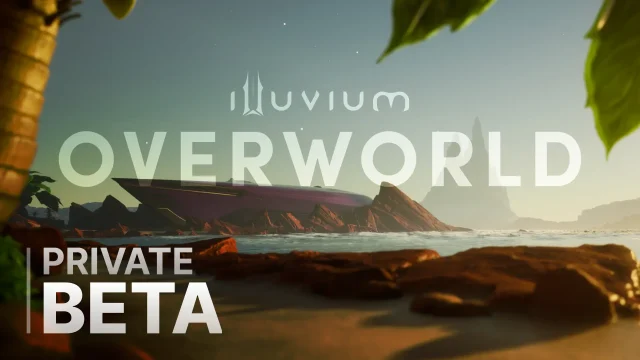 Currently, Illuvium can be played in a private beta version, which includes exploration of an open world and battles in a battle arena. The private beta version is free to play. Illuvium Zero is a game that can only be played by landowners. We have included our impressions from playing the private beta version, so please take a look.
What is Illuvium?
Illuvium is an NFT game where you explore, capture, and battle monsters called Illuvials, similar to Pokemon, that live in an open world. It incorporates the Play-to-Earn element and is planned to be a highly immersive open-world RPG game. It won the BEST RPG award at the GAM3 AWARDS on December 15, 2022, which is the world's largest game award presented by the overseas media "Polkastarter Gaming," indicating the high expectations that the public has for Illuvium.
Gameplay Overview
Let's explain the gameplay of Illuvium. The game is scheduled to be played in the following sequence:
Begin exploring Illuvials
Capture Illuvials
Battle with Illuvials
Starting the Exploration of Illuvials
To capture the monsters called Illuvials, you will travel through the open world (overworld).
<Showing movement in the overworld>
The number of Illuvials that can be captured is generally limited, so it becomes increasingly difficult to find Illuvials that have already been captured. The capture rate changes over time.
About Illuvials
There are over 100 types of Illuvials that inhabit the open world, each with its own unique abilities, and each Illuvial can evolve up to three stages. Additionally, Illuvials have types and attributes, and there are compatibility factors between them.
Illuvial Rarity
There are three levels of rarity for Illuvials:
Shiny (rarity: low)
Gold (rarity: medium)
Holographic (rarity: high)
The higher the rarity level, the fewer of that type of Illuvial exist relative to others.
Types of Illuvials
Fighter
Rogue
Guardian
Psion
Empath
Illuvials are grouped into the above 5 types. Types are an important factor as they influence combat compatibility. Some illuvials have two types, such as Fighter + Rogue = Slayer, while others have a single type, such as Psion + Psion = Invoker.
Attributes of Illuvium
Water
Fire
Earth
Wind
Nature
Illuvials can have two attributes at the same time. They can be strengthened by combining different attributes, such as having different water and wind attributes or having the same fire attribute. For example, players can create a Mist Illuvial by combining water and wind, or a Hell Illuvial by combining fire and fire.
Illuvial Fusion Fusion is one of the game elements that enhances Illuvials. When a player captures three of the same Illuvials, they can merge them into one powerful Illuvial. Powerful Illuvials not only excel in battles, but also have the potential to increase in value as NFTs.
Capture Illuvials
In the game, Illuvials can be captured using items called Shards, which function similarly to Pokeballs in Pokemon. More powerful Illuvials require stronger Shards for capture.
Battle with Illuvials
Battles in Illuvium are automated. Before the battle, players select their Illuvial and engage in combat. Unlike Pokemon, players can also participate in battles alongside their Illuvials by equipping weapons and armor. These weapons and armor are also NFTs.
Illuvials can become stronger and level up through battle experience.
I tried playing Illuvium!
This time, I played the open world and battle arena in the private beta version. The open world has beautiful graphics that can be considered the best among NFT games.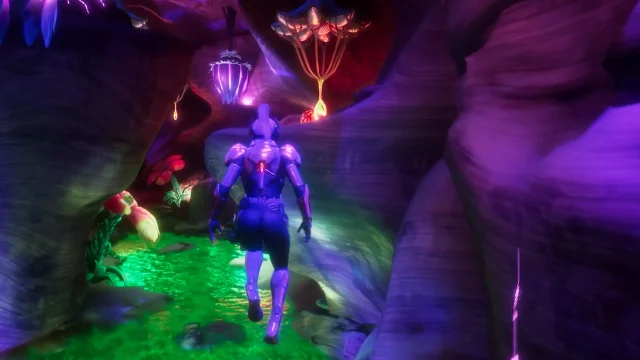 The fine details create a realistic gaming experience. From exploring the open world to capturing Illuvials and battling, it was a valuable opportunity to experience the main content.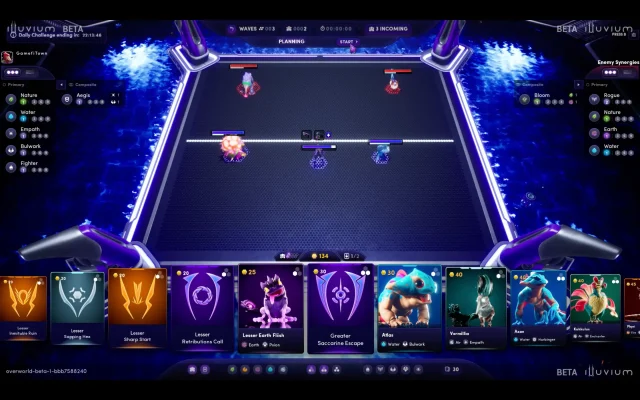 The battle arena is automated, but strategic placement is necessary. By considering various elements such as the class and characteristics of the Illuvials, the battle situation can change significantly through placement. In the battle arena, defeating the opponent's Illuvials advances the stage, which is called a WAVE. As the WAVE increases, the opponent's Illuvials become stronger. I thought that by placing powerful monsters, it would be enough for automated battles. However, as I progressed through the higher WAVEs, strategic placement became crucial. The game balance is well-adjusted in areas that do not rely on the Illuvials' abilities, and the upcoming PvP mode is also expected to be exciting. If you achieve a high WAVE in the battle arena, you can appear on the top board in ranking format. For detailed information on Illuvials necessary for gameplay, please refer to Illuvialmaster:
Please try playing Illuvium if you are interested.
How to Start Playing Illuvium
Currently, in the private beta version of Illuvium, players can explore the open world and battle in the battle arena for free. Illuvium Zero is a game exclusively for landowners. Players need to win the lottery to start playing. Here's how to participate in the lottery:
Steps to start playing the private beta version: The following steps increase your chances of winning the lottery. Landowners have priority, so consider purchasing a land NFT if you want to start playing immediately.
Register for the private beta on the official website.
Obtain the @twitter-raider role in #reacton-role on Discord.
Apply for beta access in #beta-access.
Actively participate in Discord and reach level 5.
Receive notification of winning the private beta lottery.
Illuvium Private Beta Registration Process:
Register for the Illuvium Private Beta on the official website.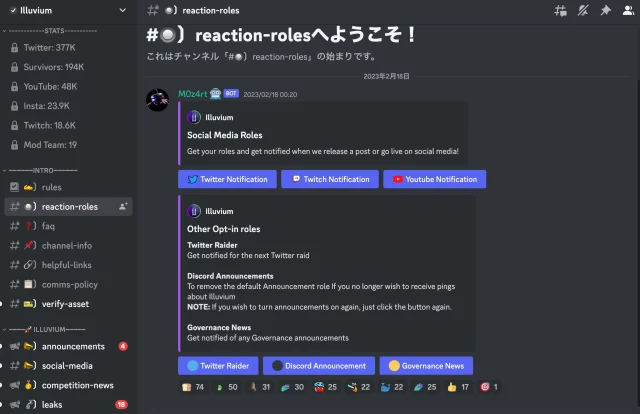 Join the Illuvium Discord and obtain the @twitter-raider role in #reacton-role.
Note: If you own a Land NFT, obtain the @land-owner role in #verify-asset for priority access to the beta lottery.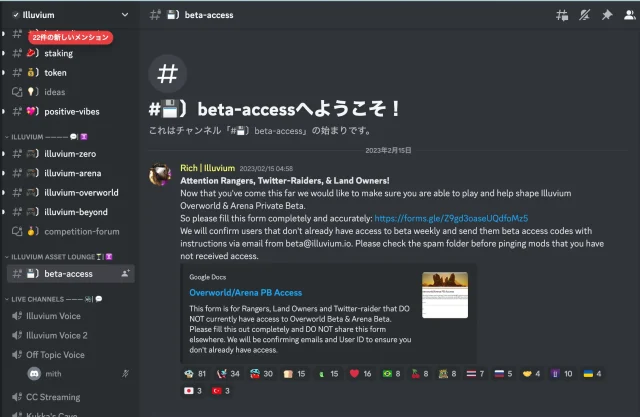 Apply for the Private Beta in #beta-access on Discord.
Reach Level 5 by actively engaging in Discord discussions (level applies to both English and Japanese channels). Check your level in #bot-commands.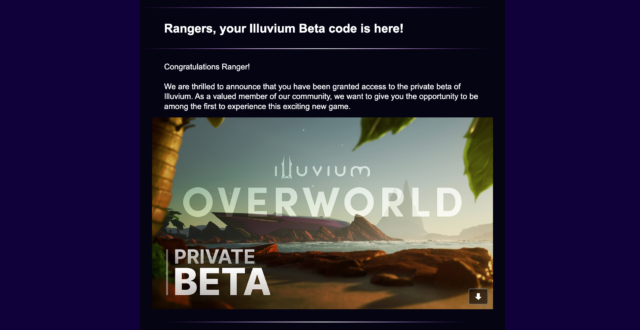 Receive notification of your beta lottery status via email. If selected, you will receive a beta code to start playing. Join us and experience Illuvium!
How to Buy Land NFTs in Illuvium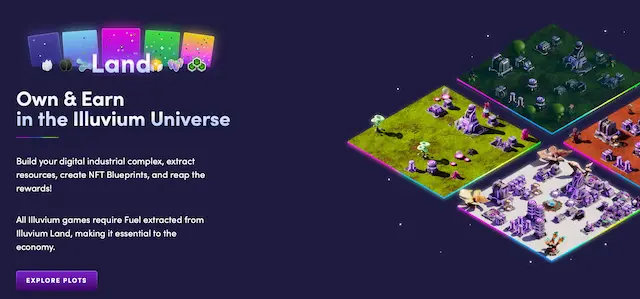 To play Illuvium, you need to purchase "Land NFTs" on the Immutable X marketplace. There are various benefits to buying them now, including prioritized access to the private beta, the ability to use Illuvium to fuel gameplay, and access to blueprints for battle suit skins. Land NFTs can be purchased with Ethereum (ETH), so be sure to prepare ETH before buying. Once you have ETH in your MetaMask wallet, follow these steps to purchase Land NFTs: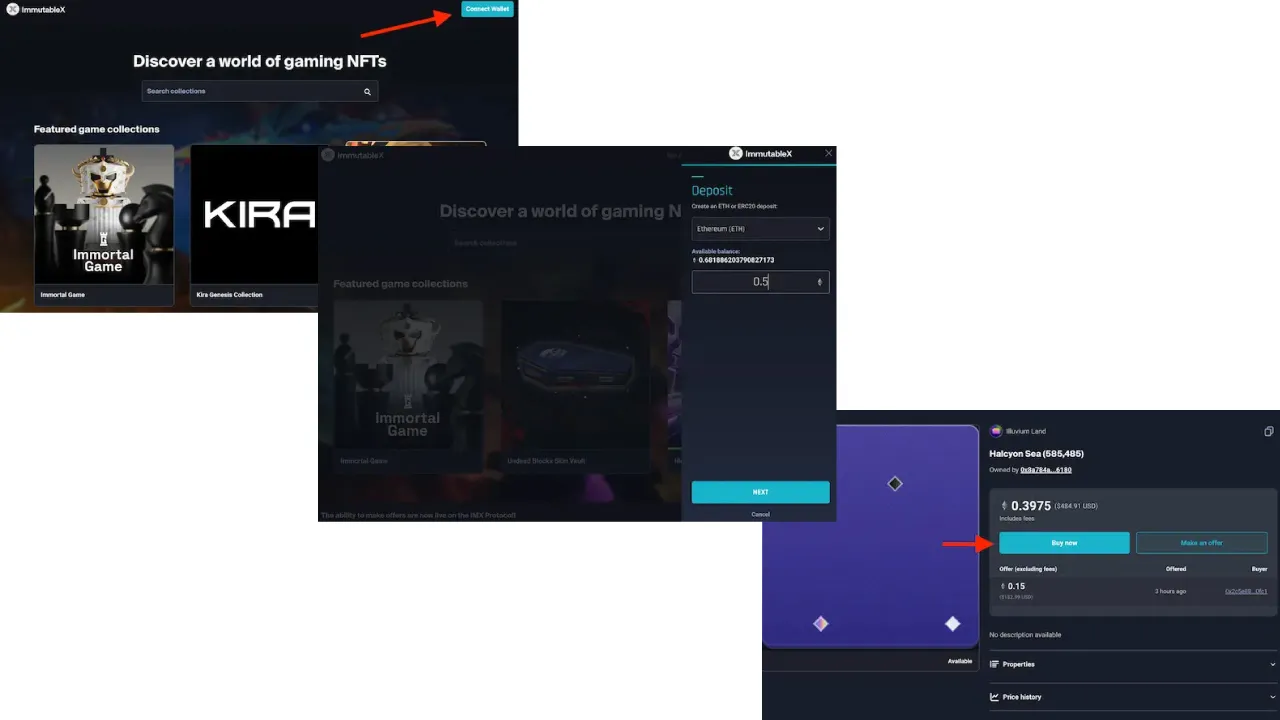 Bridge your ETH to Immutable X.
Access Immutable X and connect your MetaMask wallet by tapping "Connect Wallet."
Go to Balance > Deposit from Wallet > Connect with MetaMask > Enter the amount of ETH you want to deposit > Tap NEXT to complete the transaction.
Find the Land NFT you want to purchase on the Immutable X marketplace and buy it by clicking "Buy Now."
Cryptocurrency tokens of Illuvium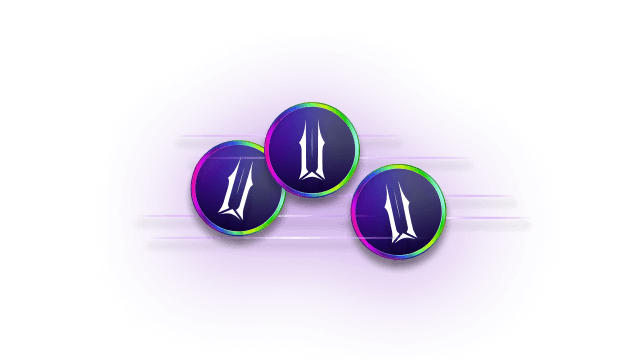 There are two tokens in Illuvium, ILV ($ILV) and sILV ($sILV).
ILV token ($ILV)
The ILV token is a governance token. The ILV token can mainly be received as rewards and staking rewards for achievements in the game. The ILV token can be used for player-to-player transactions such as buying and selling Illuvials.
sILV token ($sILV)
The sILV token is an in-game currency. It can be used for shards for open-world movement, capture, items used in battles, and other in-game purposes. However, it cannot be used for player-to-player transactions such as buying and selling Illuvials.
How to earn illuvium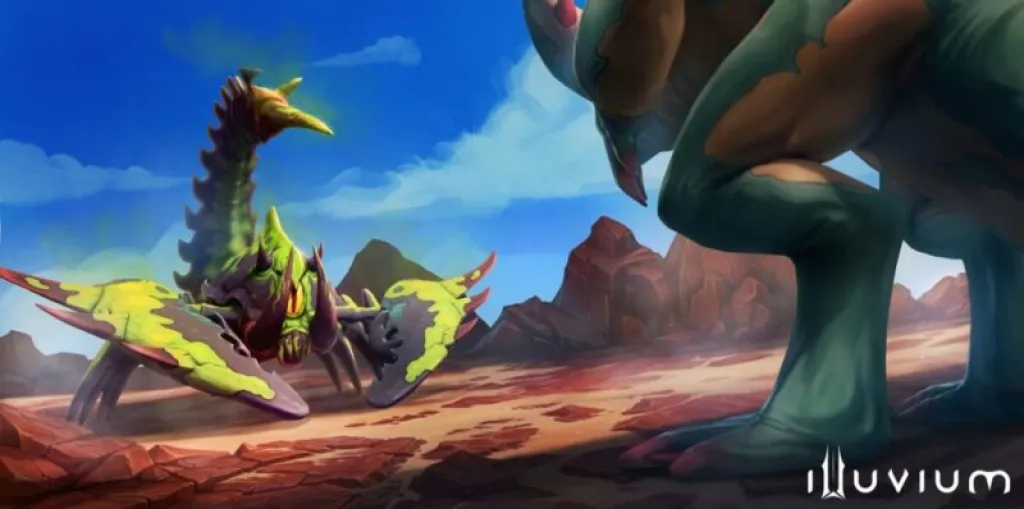 There are currently three ways to earn ILV in Illuvium:
Sell captured Illuvials (NFTs)
Win battles in the Leviathan Arena
Yield farming rewards through staking
Sell captured Illuvials (NFTs)
Illuvials captured in the open world can be sold as NFTs on the marketplace. The rarer and more powerful the Illuvial, the higher its value.
Win battles in the Leviathan Arena
The Leviathan Arena is a battle arena where players can wager rewards and determine the winner. Spectators can also bet on the outcome and earn rewards.
Yield farming rewards through staking
Illuvium has its own yield farming reward system, which allows for earning rewards by staking and contributing to liquidity. The staking program currently has an allocation of ILV tokens worth 3 million, which is equivalent to 30% of the maximum supply of 10 million ILV tokens. Users can choose between staking ILV or sILV and earn ILV token rewards passively. Staking periods can range from 1 week to user's choice. Note that staking rewards are not currently available due to the ongoing update to Staking v2.
How to Stake ILV in Illuvium
In this section, we will explain how to stake ILV, which is currently the only way to earn in Illuvium. To stake ILV, you will need to purchase it first. ILV can be purchased on popular cryptocurrency exchanges such as Binance, KuCoin, Crypto.com, SushiSwap, and Gate.io.
To stake ILV, follow these steps:
Note that staking rewards are currently unavailable due to the ongoing update to Staking v2.
Connect to a Wallet

Access the Illuvium official website and click "CONNECT WALLET" to connect to a wallet of your choice.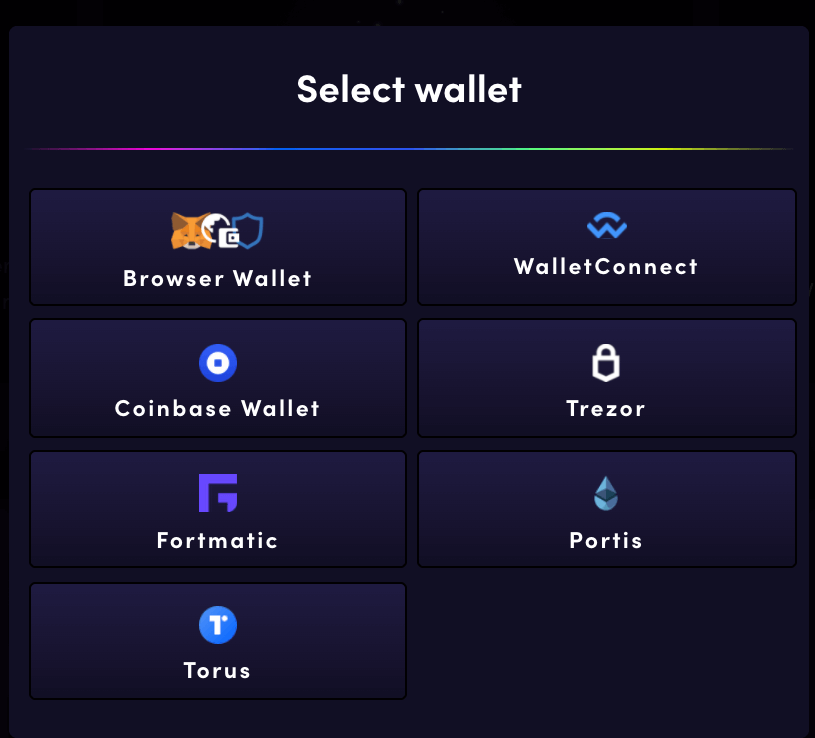 Select the Core Pool

Once connected, click "STAKE" and select the "CORE POOL."
Choose the Staking Pool

Choose one of the available staking pools, click "DETAILS," and then click "STAKE."
Set the Staking Amount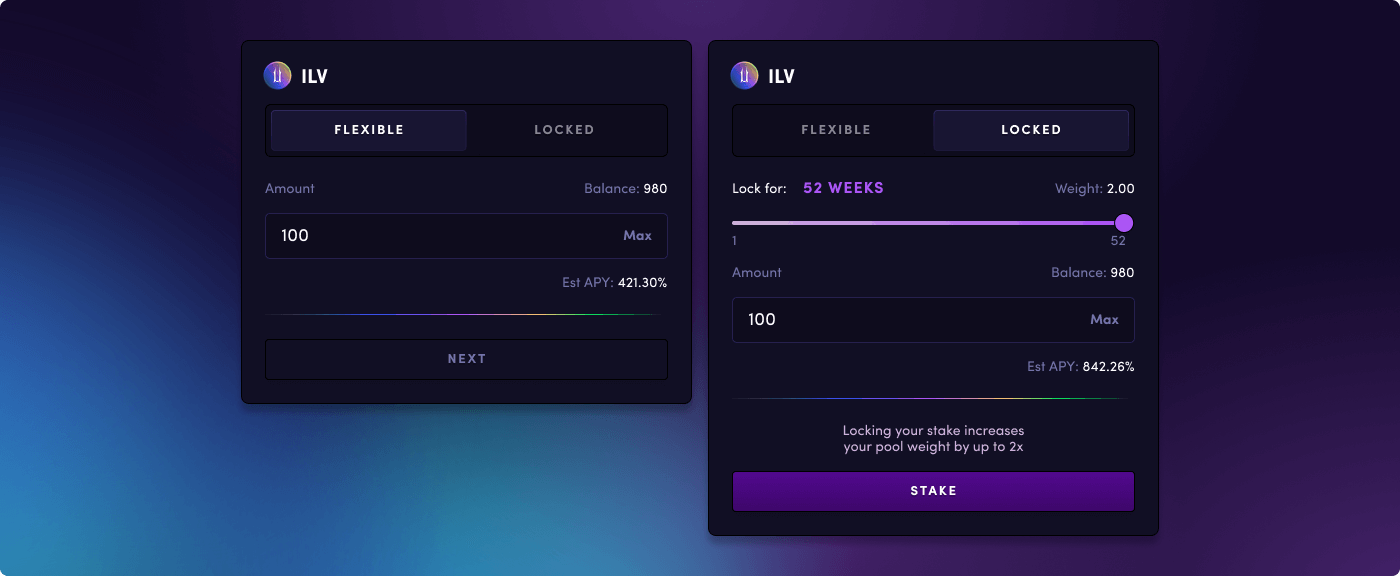 Select either "FLEXIBLE" or "LOCKED." Flexible staking allows for withdrawal of rewards at any time but with lower interest rates, while Locked staking offers higher interest rates but with a longer lockup period. Set the staking amount and click "STAKE."
Reasons to Play Illuvium
What are the benefits of playing Illuvium? Our site is impressed with the following:
A high-quality AAA-rated blockchain game.
A talented development team.
Zero-fee instant transactions (using Immutable X).
Based on these points, we believe that Illuvium is a promising NFT game for the future.
A high-quality AAA-rated blockchain game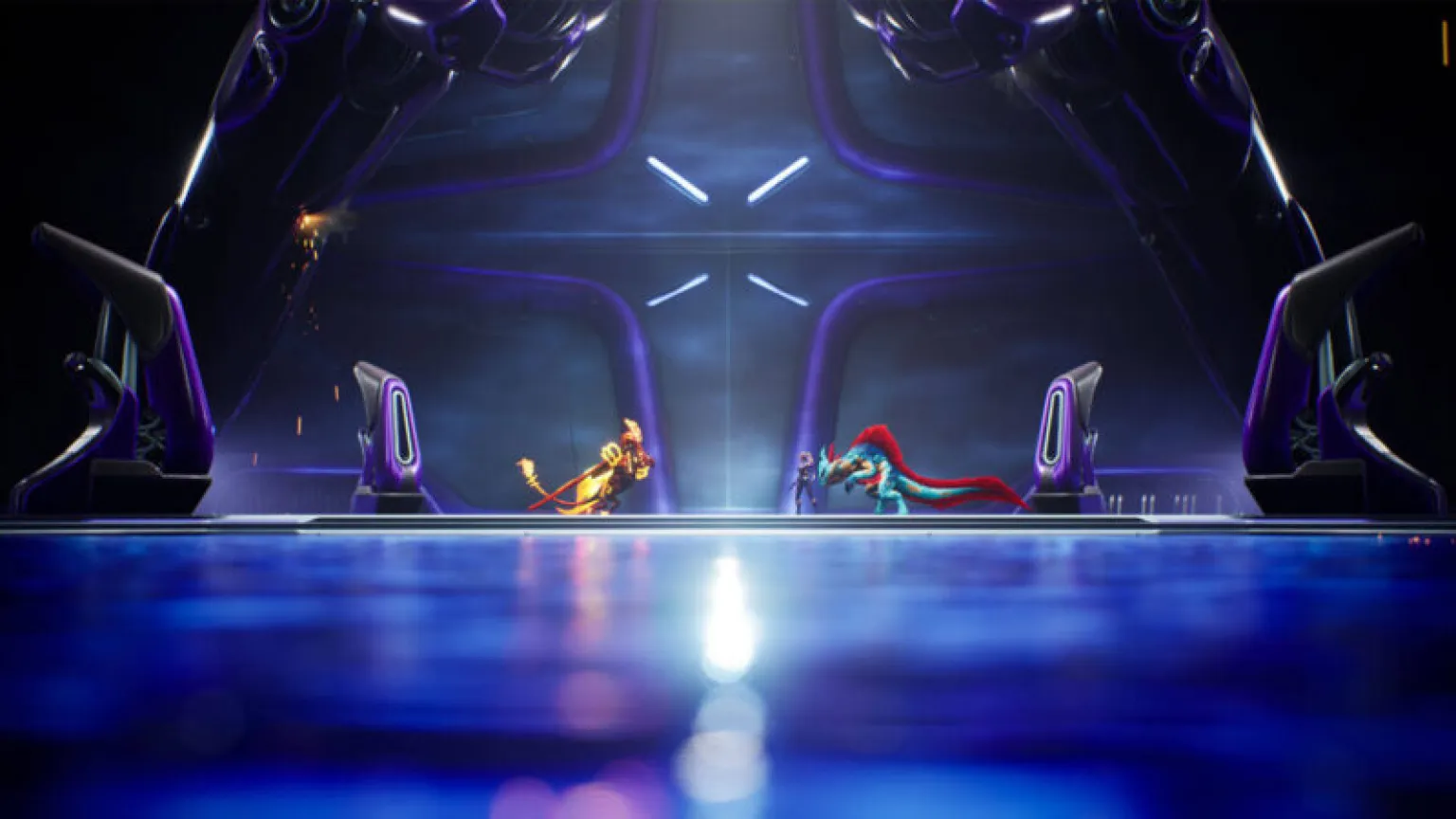 The open world where Illuvials live is a fully 3D environment with top-quality graphics. With blockchain integration, captured Illuvials become players' assets as NFTs. As there is a limited number of Illuvials and the probability of encountering them decreases over time, exploring the open world and capturing Illuvials offers a unique and exciting gaming experience.
A talented development team

The Illuvium development team comprises over 75 members with experience in various fields. Co-founder Kirean Warwick has a track record of establishing the DeFi protocol Synthtix as an entrepreneur. In addition, game producer Nate Wells has experience working on hit games such as Bioshock, The Last of Us, and Rise of the Tomb Raider. Illuvium has also raised $5 million in funding at the start of development, and as of March 2022, they have announced that they have secured operating funds of up to $50 million.
Zero-fee instant transactions (using Immutable X)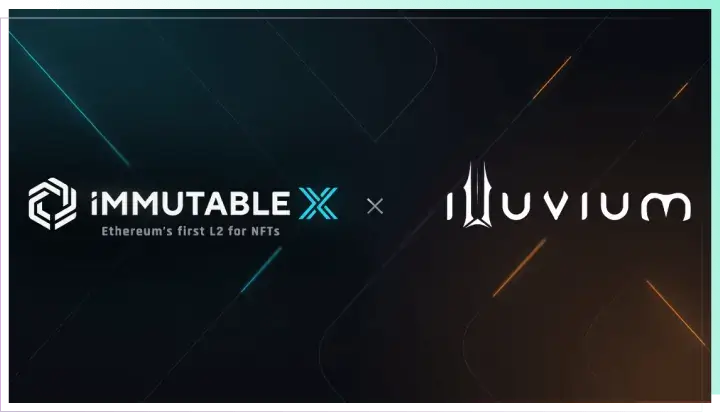 Illuvium uses a Layer 2 solution called Immutable X, which can speed up transactions on Ethereum. This allows for zero-fee and instant transactions between players. By providing a seamless transaction environment, Illuvium can offer user-friendly services and expect an increase in users.
Summary
Illuvium is an upcoming NFT game that allows players to explore, capture, and battle monsters called Illuvials in an open world. The game incorporates Play-to-Earn elements and is planned to be a highly immersive open-world RPG game. Players can earn money by selling captured Illuvials, winning battles in the Leviathan Arena, and yield farming rewards through staking. The game has two tokens, ILV and sILV, which can be used for player-to-player transactions and in-game currency, respectively. Illuvium has won the BEST RPG award at the GAM3 AWARDS, indicating high expectations for the game. Currently, the game is in private beta, and players can participate in the lottery to gain access to the beta version.
Mint Your Free NFT Badge and Enter Our Exclusive Giveaway – Limited Time Offer!
Mint your own SGG NFT Badge today and join the exclusive SGG member community! And that's not all – only SGG NFT Badge holders will be able to participate in our exciting Giveaway project! So don't miss out on this exclusive opportunity to win valuable rewards.
Our NFT badges are issued automatically by the SGG app and are based on the ERC-4907 standard, an upgraded version of ERC-721. By keeping your SGG NFT Badge in your wallet, you'll gain access to all of the amazing features of the SGG app, including NFT Lending, NFT Auction, Gacha, and more.
Ready to start monetizing your NFTs and enjoying the exclusive benefits of SGG membership? Mint your SGG NFT Badge today and join the revolution of NFT-based gaming!
JOIN Samurai Guild Games! Read here <https://samuraiguild.io/guide-to-enter-samurai-guild-games-giveaways/>