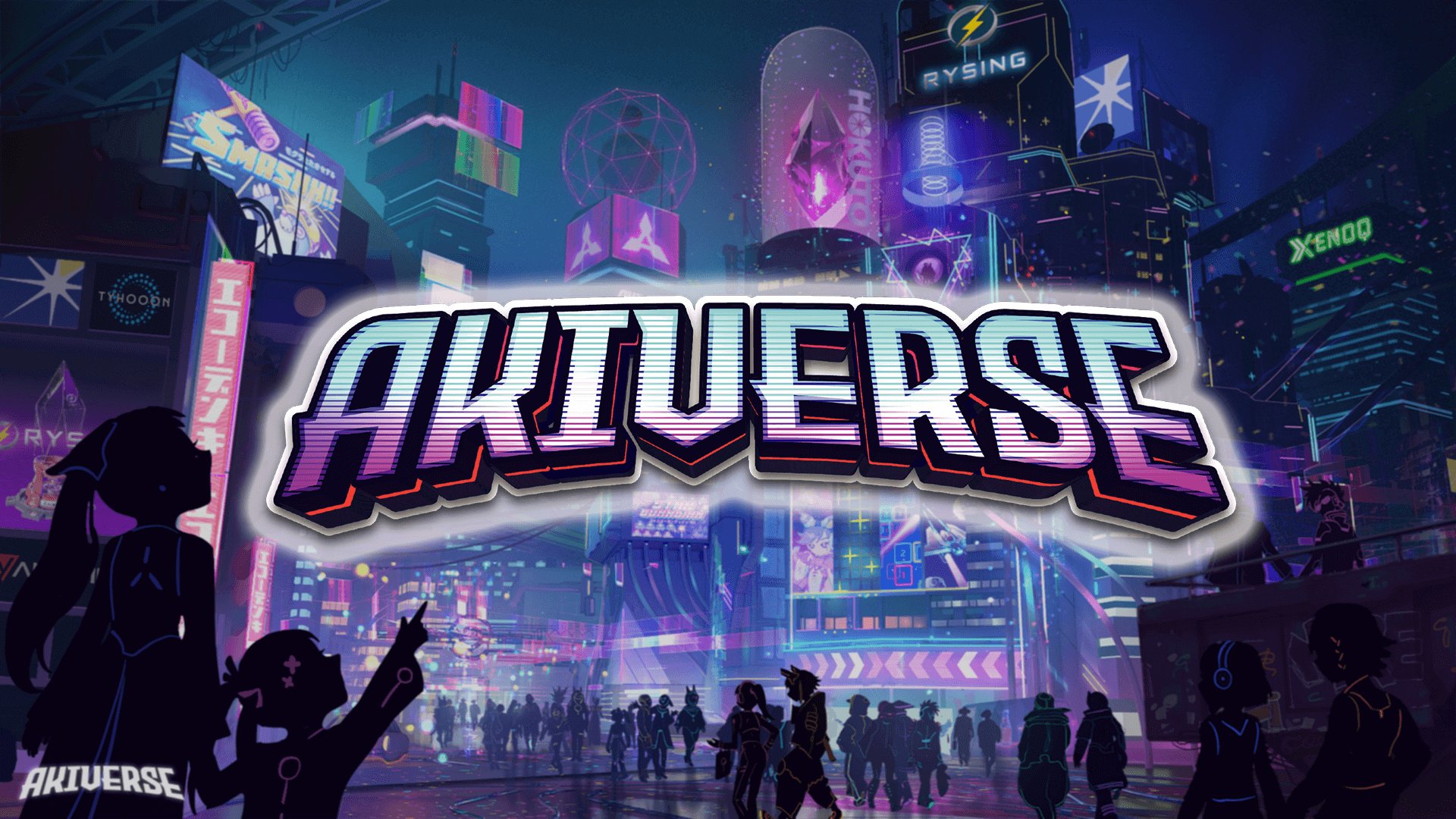 AKIVERSE: NFT Game Review | How to Join this Virtual Space and Earn
AKIVERSE Overview
AKIVERSE is a virtual space modeling real cities across the globe.
People can connect in the virtual and real world through local events and a variety of content.
AKIVERSE is built as a completely new platform, a society where all people can play, create, and live.
AKIVERSE's Mission and Vision
AKIVERSE believes all users are 'creators'.
Everyone is a creator: those who play games and view creative content that exists in AKIVERSE, those who produce that content, those who transform creative content into digital assets via the craft system, asset owners, and virtual landowners who provide a space for play. 
The word 'creator' is defined not in a narrow sense, but as "those who enrich the world via positive acts of creative expression, and those who help reveal the new values of humanity by sharing their tastes, desires, wishes, and dreams".
Please watch the teaser.
 AKIVERSE's vision is the realization and development of a society where people can play, create and live.
This vision is created by the belief that we're living in a world without despair, where anyone can safely participate regardless of region, country, race, religion, status, education, and living condition in the tangible world, and where everyone not only can enjoy their economic values, but also achieve self-fulfillment.
AKIVERSE's mission is created by three principles:
We believe all users are creators. This includes users who produce content, users who interact with content, and users who support the ecosystem.

We respect each other as creators and continue to be a "safe space" where people can feel secure and free from negativity.

We build institutions that reward all creators to realize "a world without despair." 
AKIVERSE Ecosystem
AKIVERSE focuses first and foremost on  game-based experiences.
They believe that games will be combined with all social infrastructures and become a highly functional interface between people and society, which they call Society 5.0, following the hunting society (Society 1.0), agricultural society (Society 2.0), industrial society (Society 3.0), and information society (Society 4.0).
All games within the ecosystem are open for all purposes, not just for fun. Users play games to seek companionship, learn, heal, and even to look for a place to stay.
Looking back to the history, from the 1980s to 2000s, children gathered in game arcades, made friends there, and form community and culture. Every cities were spotted in game arcade in various sizes.
AKIVERSE now will continue to expand in various forms, not only in a daily basics, but also in the entertaining activities.
This is a flow chart where players can enter the AKIVERSE ecosystem.
The world of AKIVERSE consists of:
Game centers which exist in the virtual world
Arcade Machines which are installed in the game centers
Games which are included in the Arcade Machines
Arcade Parts that make up Arcade Machines
Teras: a circulating in-world currency
$AKIR: the utility token
$AKV: the governance token
About AKIVERSE's Cryptocurrency
In-World Currency Teras
Teras can be used to:
exchange for $AKIR
rent space for Arcade Machines in Game Centers
craft
It is created for entry-level creators who would like to enter the world of AKIVERSE.
The name "Teras" is derived from AKIVERSE's worldview, meaning "to illuminate the darkness".
$AKV
$AKV is an ERC-20 governance token.
| | |
| --- | --- |
| Token Name | AKIVERSE Governance |
| Symbol  | AKV |
| Token Standard | ERC-20 |
| Total Supply | 400,000,000 |
| Contract | 0x7B4554C4Ab1B4A61A2ff4Ce35900F5C7BE47ba2e (PolygonScan) |
$AKV is used to:
reward holders for their contributions
staking
voting
$AKV holders will have chance to receive an airdrop from Arcade Machines, and early access to other services.
$AKV Allocation 
$AKIR
$AKIR is an ERC-20 utility token, used for rewarding, and served as the basis for AKIVERSE's in-game transactions.
$AKIR can be obtained in exchange for Teras.
| | |
| --- | --- |
| Token Name | AKIVERSE Reward |
| Symbol | AKIR |
| Token Standard | ERC-20 |
| Total Supply | Unlimited |
| Initial Issue Quantity | 20,000,000 |
The contract address on Polygon is: 0xf7130028f0766a6fA21D25c2F249da08f51B8fFb
Players can earn $AKIR through commission in Arcade Machines Crafts and Extracts,  while playing games in Game Centers, and providing liquidity for AKIR farming.
$AKIR Allocation is broken down as below:
Token Sales
They are selling $AKV in private sale to some investors, mainly to hire members and enhance the platform.
$AKV's IEO will be conducted in accordance with some requirements.
The NFT Token, Game Center, will only available through secondary sales and in marketplaces like OpenSea.
How to Become AKIVERSE's Creator
All users of AKIVERSE refer Creators, which are categorized as below:
AKIVERSE's Craft System
The whole craft system of AKIVERSE include these activities:
Craft
Extract
Dismantle
Owner Ranking
Craft
Craft is an action that allows you to create a new Arcade Machine by consuming Arcade Parts and AKIR/AKV or Teras while referring to the recipe.
Arcade Parts are a kind of NFTs within AKIVERSE's ecosystem, and can be obtained by Extract or Dismantle an Arcade Machine.
Extract
Extract is an action that allows you to spend Energy / Teras (in-world currency) to acquire the Arcade Parts that make up the Arcade Machine. 
* Energy can be accumulated by an Arcade Machine's Accumulator through gameplay.
Similar to Craft, Extract can be performed frequently, since Arcade Parts are needed to craft a new Arcade Machine.
Dismantle
Dismantle is an action that allows you to spend Arcade Machine / Teras (in-world currency) to acquire the Arcade Parts that make up the Arcade Machine.
In other words, when an Arcade Machine's accumulator has no stored energy and no possibility of accumulating more energy, the Arcade Machine may be consumed (burned) by Dismantling. 
Owner Ranking
Owner Ranking is a system in which points are added up at the end of a season (2 weeks) based on the type and number of actions taken by each creator during the season. 
By using this Owner Ranking system, creators can increase and manage their own assets. Any game players can become an Arcade Machine owner, and eventually a Game Center owner, based on their rank in this system. 
About AKIVERSE's NFT
There are three types of NFTs that exist in AKIVERSE: Game Center (GC), Arcade Machine (AM), and Arcade Part (AP).
Game Center (GC)
Game Center is a space that hosts arcade machines for players to play games.
Each Game Center is a unique ERC-721 token, equivalent to LAND in other games. 
You can buy Game Centers on presale or in the marketplace, with 3 sizes available (Large, Medium, Small). Each size has its own default price. The larger the size of Game Center, the smaller the supply.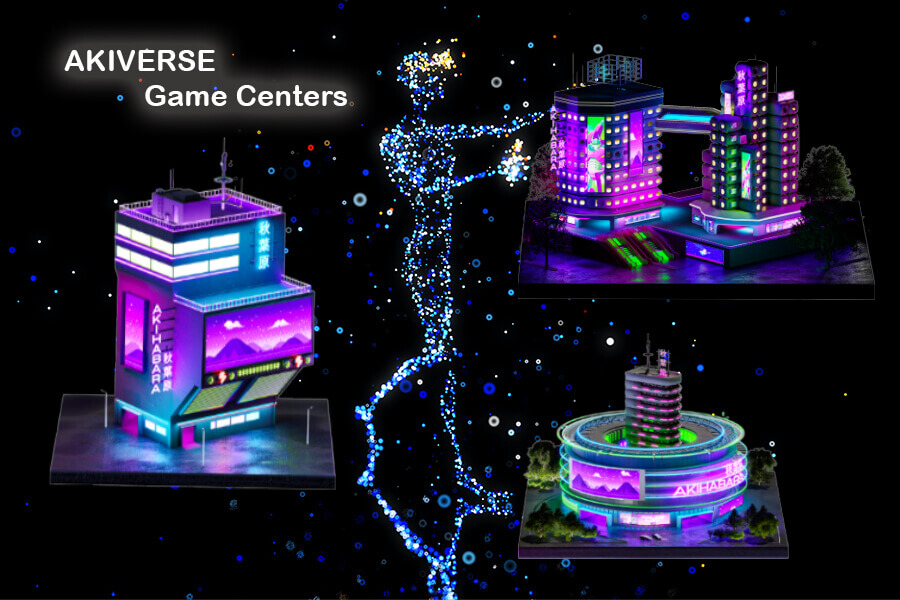 Arcade Machine (AM)
An Arcade Machine must be installed in a Game Center before anyone other than the Arcade Machine owner can play. 
Arcade Machine can only be acquired via Crafting (particularly combining four Arcade Parts).
Each Arcade Machine is a unique ERC-721 token, and each Arcade Machine contains a single game. 
Arcade Part (AP)
Arcade Parts are materials that make up Arcade Machine, usually come in four types: ROM, Accumulator (Acc), Upper Cabinet (UC), and Lower Cabinet (LC). All of them are unique ERC-721 tokens.
Arcade Parts can be acquired in four ways:
by extracting or dismantling an Arcade Machine
by spending Teras
by winning a high rank in the Owner Ranking
by purchasing parts directly from the marketplace
*Note: when acquiring AP by spending Teras, you can craft Arcade Parts and own Arcade Machine assets without having a digital wallet like Metamask, or KEYRING PRO. But you can connect your wallet afterwards when purchasing or selling Arcade Machine assets on marketplace.
Summary
AKIVERSE is a completely new metaverse platform, with the whole vision and mission of creating a virtual space where people can connect with each other and become creators in their own society.
Recently, AKIVERSE's Closed Beta Test Phase 02 has successfully wrapped up with a massive and invaluable participation of devoted testers.
Open Beta Test will be released soon. If you want to join the test and be a creator in AKIVERSE's world, please refer to this article to learn more about the game.
Want to join exclusive collaboration giveaways with various NFT games in the industry? Read this article An Ultimate Guide to Enter Samurai Guild Games Giveaways