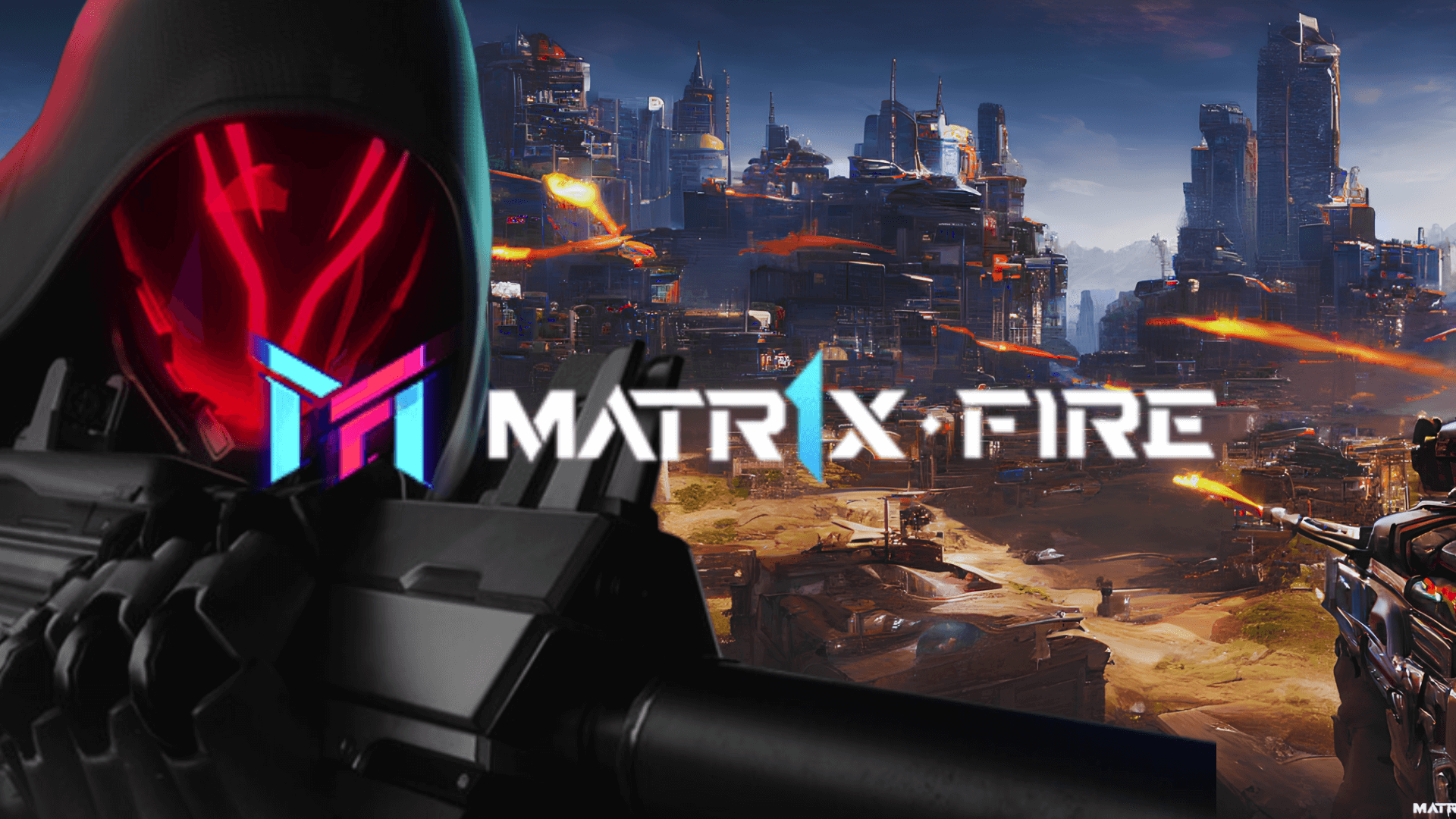 Matr1x Fire Game Review | Gameplay Explained, Cryptocurrency and How to Earn
Matr1x Fire, a web3 shooting game that can be played on your smartphone. Shooting games are the most played game genre with over 1 billion players worldwide.
Matr1x Fire is the first shooting game in the Web3 game industry.
In this article, we will explain how to start Matr1x Fire, how to earn money, and everything about its cryptocurrency.
What is Matr1x Fire?
Matr1x Fire is a mobile shooter in the Metaverse. Players compete in shooting battles in the Metaverse while owning their own NFT assets.
The focus is on PvP multiplayer, with casual PvE gameplay modes including classic 5-on-5 battles and battle royale.
About Game Modes
Classic Game Mode: Players are divided into two teams and fight multiple rounds on a map, with the team that conquers the map first winning.
Battle Royal game mode: players compete against dozens of other players simultaneously and the last surviving team wins.
Casual PvE game mode: players can experience "roguelike" elements and strategic gameplay in which they defeat various dungeon-type enemies.
In the future, you can also participate in various top competitions organized by Matr1x Fire.
How to get started with Matr1x Fire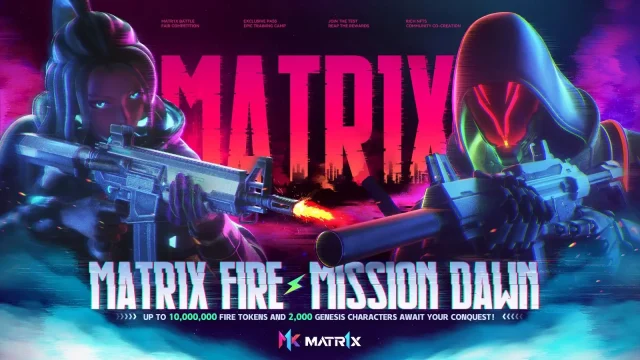 Matr1x Fire's Android-only test "Mission Dawn" begins on March 31 at 19:00. Matr1xlink is required to participate in "Mission Dawn." It will be available for iOS in the near future.
"Mission Dawn" has up to 10M $FIRE tokens, 2,000 Genesis Characters, YATC, and other great rewards.
Upon completion of in-game tasks during the test period, testers will receive multiple rewards, including base and ranking rewards.
More details on the test and rewards will be announced at a later date.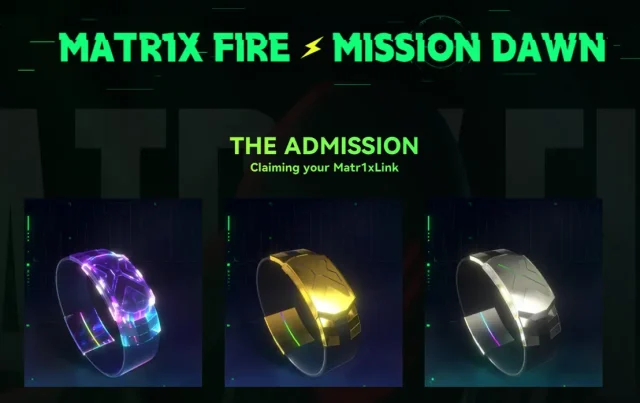 Matr1xLink levels are ranked in order of Diamond, Gold, and Silver. The higher the level, the richer the basic rewards.
Buy Matr1xLink at Opensea.
Register and log in to your account on the official matr1x.io website.
Connect the wallet held by Matr1xLink to the official Matr1x website.
Click on "Binding Matr1xLink" on the Binding page and the required process is complete.
After binding, you will get a download link for the installation package. After installation, you can open the game server to enter the game.
About Matr1x Fire's NFT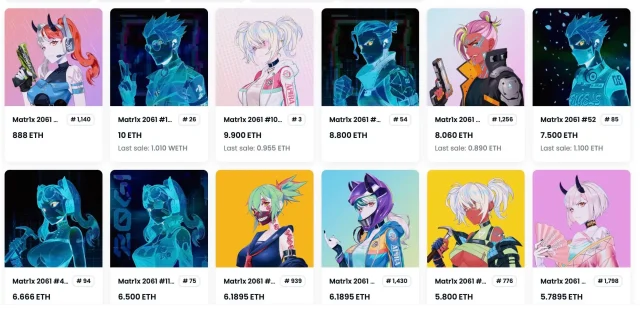 Virtual characters and weapons are the main NFT assets, but players with high-quality avatars can earn $FIRE tokens (ERC20) and potentially acquire rare weapon NFTs in-game.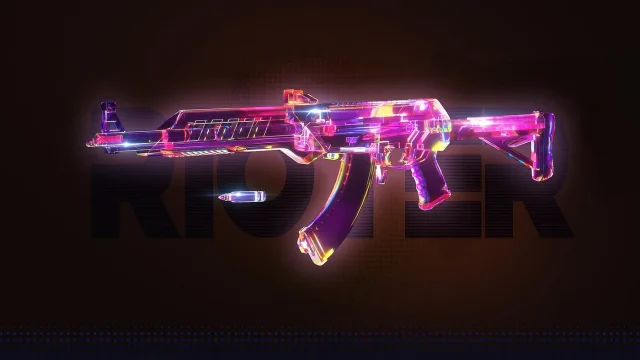 There are more than 30 weapons, including rifles, pistols, sniper rifles, submachine guns, and shotguns.
About Cryptocurrency
Matr1x FIRE uses $MAX tokens, which are governance tokens; $MAX tokens are issued as ERC-20 tokens and deployed in Polygon network. The maximum supply is 1 billion $MAX.
How to earn with Matr1x Fire
The main way to earn money is to have a rare virtual character NFT. Virtual characters can be upgraded to higher levels to improve their attributes; you can own NFTs and earn tokens through play.
In every game season, Battle Pass holders will have the chance to receive a new weapon treasure chest. This treasure chest may contain weapons and items of the highest rarity Misick.
After the game's official release, players with superior match scores and Misick's NFT holders will receive a random max airdrop.
Summary
The Metaverse mobile shooting game "Matr1x Fire" was described.
A test version was released on Android on March 31 at 7pm. If you are interested, please give it a play and see how you can earn with this super exciting game.
Mint Your Free NFT Badge and Enter Our Exclusive Giveaway – Limited Time Offer!
Mint your own SGG NFT Badge today and join the exclusive SGG member community! And that's not all – only SGG NFT Badge holders will be able to participate in our exciting Giveaway project! So don't miss out on this exclusive opportunity to win valuable rewards.
Our NFT badges are issued automatically by the SGG app and are based on the ERC-4907 standard, an upgraded version of ERC-721. By keeping your SGG NFT Badge in your wallet, you'll gain access to all of the amazing features of the SGG app, including NFT Lending, NFT Auction, Gacha, and more.
Ready to start monetizing your NFTs and enjoying the exclusive benefits of SGG membership? Mint your SGG NFT Badge today and join the revolution of NFT-based gaming!
JOIN Samurai Guild Games! Read here <https://samuraiguild.io/guide-to-enter-samurai-guild-games-giveaways/>