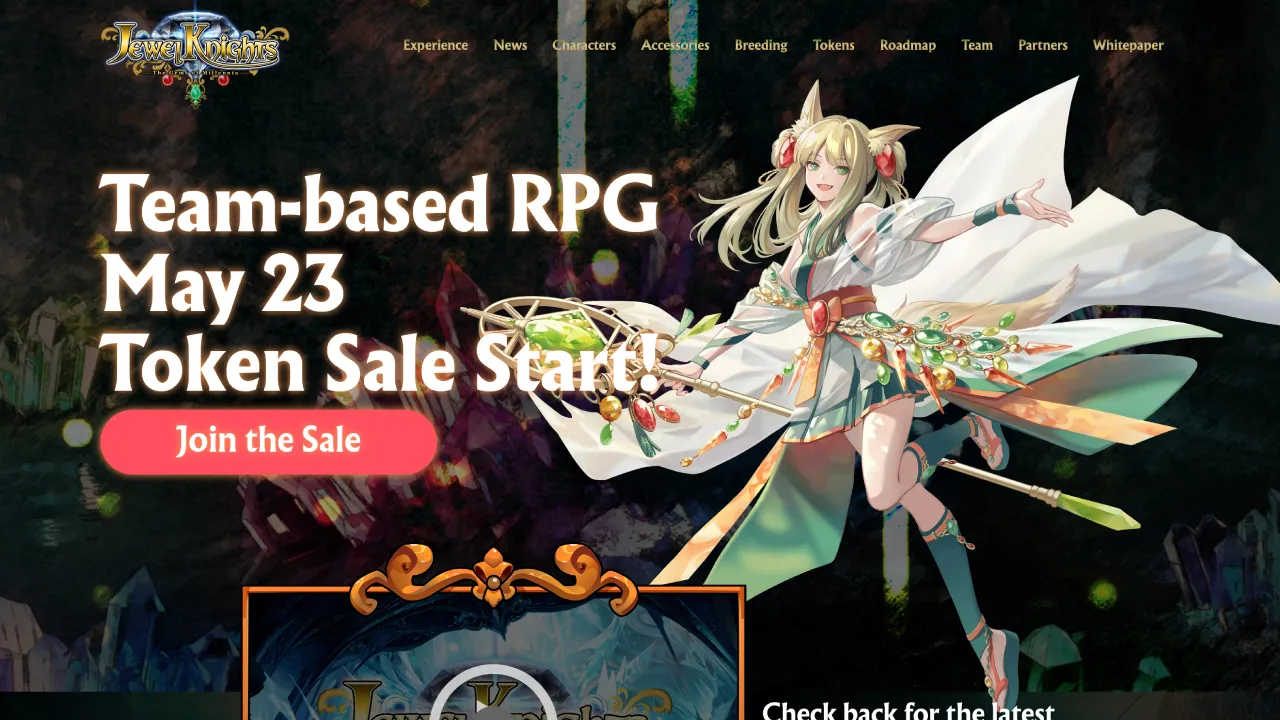 Jewel Knights: NFT Game Review | How to start
"Jewel Knights" is a strategic role-playing game (RPG) with formations of up to five characters. This innovative RPG has attracted significant attention due to the powerful backing of entities such as BINANCE and Tencent. In this article, we'll explain the premise of Jewel Knights, how to get started, and methods to earn in-game rewards.
What is Jewel Knights?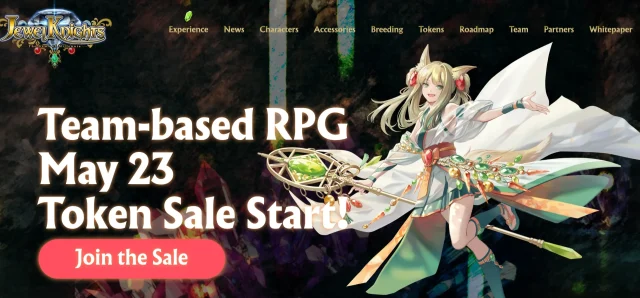 Jewel Knights is a strategic RPG developed by LIONA that allows up to five characters in a single formation. The game is scheduled for release in July 2023. As of May, the token sale and NFT sales have been carried out, with all tokens being completely sold out. The game's most significant feature is its high playability factor, developed under the guidance of LIONA's representative, Mr. Murakoshi, who is the former CEO of the highly regarded game development company, Spike. Especially notable is Spike's famous game "Samurai Dou," a game that required a high level of player skill, indicating promising gameplay for Jewel Knights.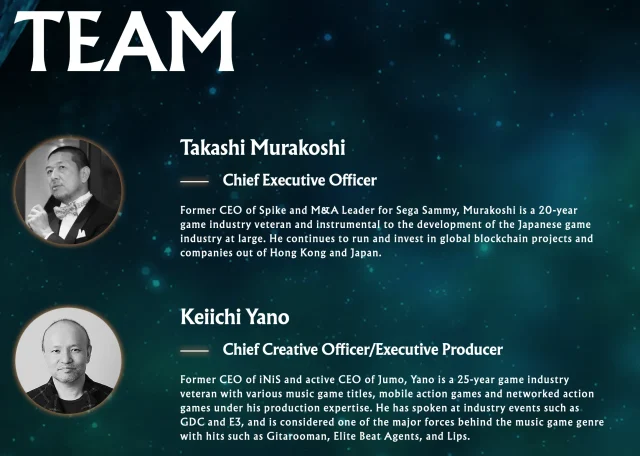 Moreover, with influential cryptocurrency exchange BINANCE backing it and LIONA receiving investments from Tencent, one of China's largest companies, the game has further points for evaluation.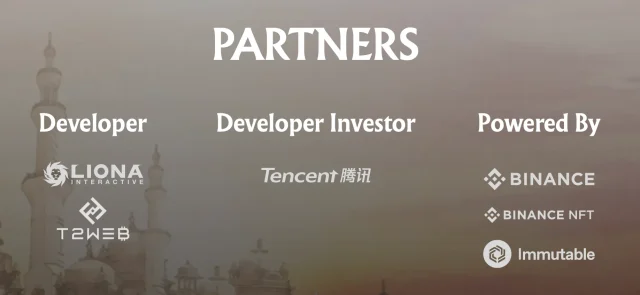 About Jewel Knights' Gameplay
Battle Mode Details
As mentioned, Jewel Knights is a strategic RPG with formations of up to five characters.
Specifically, it features:
Player vs. Environment (PvE) mode where players battle against CPU opponents
Player vs. Player (PvP) mode where players battle against each other
In the PvE mode, players can gain essential materials for leveling up. In contrast, the PvP mode allows players to earn token rewards. There are also specific missions that only particular party configurations can participate in.
About NFTs in Jewel Knights
Jewel Knights features:
Character NFTs
Accessory NFTs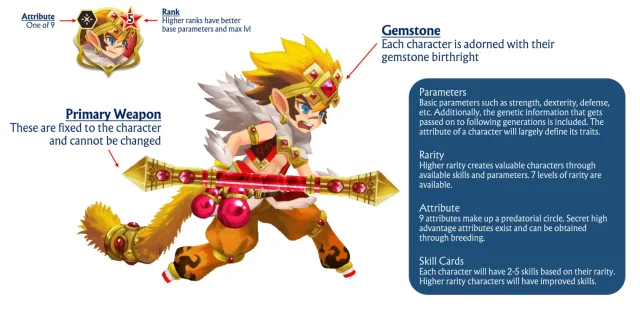 Character NFTs are critical for earning tokens in Jewel Knights. They have various parameters, such as rarity, gem type, and character design. NFT characters can participate in NFT-specific missions to earn coins or tokens and can be more potent and upgraded than free characters.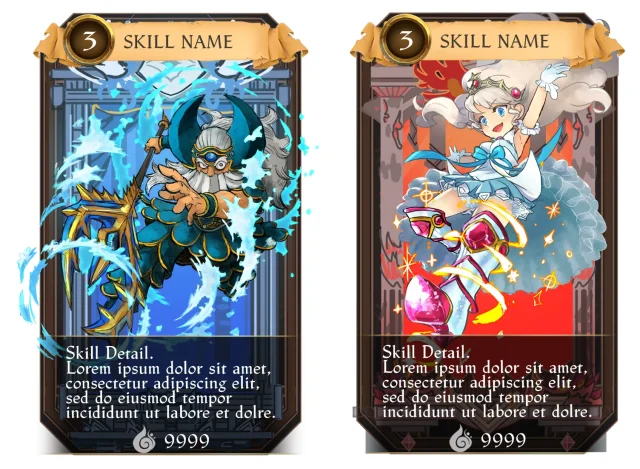 Each character has its unique skill cards with inherent attributes such as skill, cost, and type.

There is also a 'Bleeding' feature that allows players to synthesize and strengthen their characters. Accessory NFTs are equipped onto characters and can also be synthesized to create new accessories.
About Battles in Jewel Knights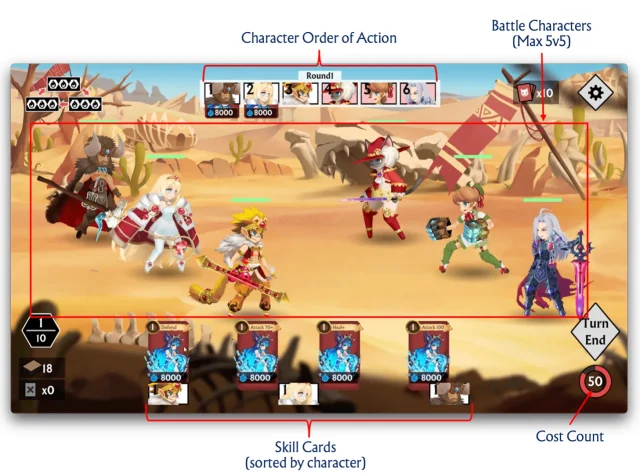 The flow of a typical battle is as follows:
Players select skill cards distributed randomly while watching the characters' action order
Each skill card has a designated cost, and players can choose up to the maximum cost number
Once all skill cards for that turn are selected, the battle begins
Unused cost can be saved for the next turn, allowing for more expenditure in future rounds
The mechanics of the game are similar to those seen in the recent "Axie Infinity."
By following the right strategies in Jewel Knights, players can optimize their gameplay and progress effectively in this exciting new RPG backed by the likes of BINANCE and Tencent.
Getting Started with Jewel Knights
In Jewel Knights, you essentially cannot play without three characters. Although you can play for free, to earn more, you may need to purchase NFTs through platforms like BINANCE NFT, which has announced a collaboration with the game. We will add more information as it becomes available.
About the Cryptocurrency in Jewel Knights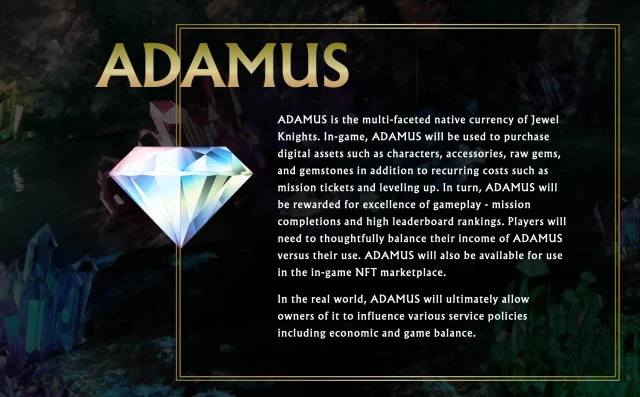 In Jewel Knights, there is a cryptocurrency (token) known as $ADAMUS. Coins earned within the game can be exchanged for $ADAMUS. This token plays several roles, not only can it be used in the game or in the real world to purchase various items, but it also serves a governance role, influencing various policies, including the game's economic balance.
As the fascinating world of Jewel Knights evolves, understanding how to leverage its unique cryptocurrency, $ADAMUS, can be crucial to enhancing your gameplay and potential earnings. Stay tuned for more updates as they become available, and prepare to embark on your journey in this exciting strategic RPG.
| | |
| --- | --- |
| Token Symbol | ADAMUS |
| Total supply | 1,000,000,000 |
| Blockchain | under investigation |
Summary
In conclusion, Jewel Knights offers an immersive strategic RPG experience backed by significant entities such as BINANCE and Tencent. The game incorporates engaging battle modes, unique character and accessory NFTs, and its own cryptocurrency $ADAMUS, to provide a comprehensive and rewarding gaming environment. Keep an eye on this promising game, from understanding its gameplay to leveraging its economic systems, to maximize your in-game profits and enjoyment. Don't miss out on the latest updates about Jewel Knights, as it could be your next big RPG adventure.
Mint Your Free NFT Badge and Enter Our Exclusive Giveaway – Limited Time Offer!
Mint your own SGG NFT Badge today and join the exclusive SGG member community! And that's not all – only SGG NFT Badge holders will be able to participate in our exciting Giveaway project! So don't miss out on this exclusive opportunity to win valuable rewards.
Our NFT badges are issued automatically by the SGG app and are based on the ERC-4907 standard, an upgraded version of ERC-721. By keeping your SGG NFT Badge in your wallet, you'll gain access to all of the amazing features of the SGG app, including NFT Lending, NFT Auction, Gacha, and more.
Ready to start monetizing your NFTs and enjoying the exclusive benefits of SGG membership? Mint your SGG NFT Badge today and join the revolution of NFT-based gaming!
FOLLOW Twitter
JOIN Discord server for updates on upcoming events or giveaways to claim exciting prizes!
JOIN Samurai Guild Games! Read here <https://samuraiguild.io/guide-to-enter-samurai-guild-games-giveaways/>