Shatterpoint NFT(Crypto) Game Review | How to Start and Earn
Shatterpoint is a mobile action RPG game with gameplay similar to the controversial NFT games "TitanHunters" and "ThetanArena".
The game's developer, Estoty, also has a track record of 1.5 billion downloads, which makes the game highly anticipated.
In this article, we will discuss what is Shatterpoint? Then, we will explain how to earn money, WL (whitelist), and the virtual currency $QUA.
Please refer to it.
What is Shatterpoint?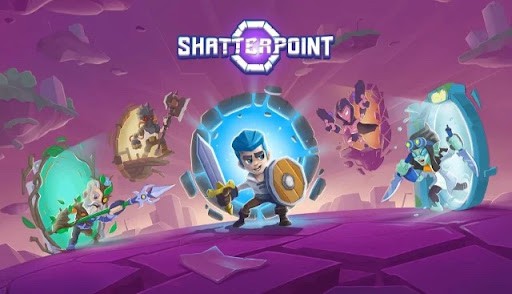 Shatterpoint is an NFT game serviced by BlockGames, a Web3 mobile game distributor.
It is an action RPG with gameplay similar to "TitanHunters" and "ThetanArena" that were popular in the past. It is also free to play.
Shatterpoint's greatest feature is its developer.
The developer, Estoty, is one of the largest mobile game developers in Europe, with 50 million monthly active players and more than 1.5 billion game downloads in total. This is a solid game being developed by a major company that would not be transient.
Shatterpoint has been developed by 25 of Estoty's best and brightest members who have been working exclusively on the game for 17 months, so you can expect the importance of this project and quality from the game.
Estoty's best known games include Johnny Trigger – 150 million downloads, My little Universe – 20 million downloads, and Squad Alpha – millions of downloads.
Shatterpoint is said to be one of the largest investments ever made by a developer in a single NFT game.
And unlike existing Play-to-Earn and Pay-to-Win games, Shatterpoint focuses on a skill-based Free-to-Play and Play & Own model.
| | |
| --- | --- |
| Game Title | Shatterpoint |
| Genre | MMORPG |
| Blockchain | Polygon |
| Game Token | QUA,SHA |
| Compatibility | iOS,Android |
About Shatterpoint's gameplay
There are two modes: player versus environment (PvE) and player versus player (PvP).
In PvE, players can earn rewards by defeating the various enemies that appear on each map and conquering quests.
The PvP mode is a 3-on-3 arena team deathmatch, in which matchmaking is designed to match players based on character potential and win-loss records.
Players can wager tokens in PvP, with the winner winning all tokens wagered. It will be a very competitive PvP game with tokens at stake.
Speaking of which, Shatterpoint has implemented a season system called "The Shattering," where at the end of each season, the world begins to collapse and a new life cycle begins, with statuses reset to Lv1, facilities collapsing, etc. This is a specification that has not been used in any existing NFT games. This is a totally new element that has not been seen in other  NFT games.
About Shatterpoint WL (Whitelist)

Shatterpoint is a game that has not yet officially launched. As such, it is not yet available for gameplay, but we plan to mint 3,333 hero NFTs in the near future. A total of 2,300 hero NFTs will be minted in this whitelist alone.
The whitelist will be divided into Tier 1, Tier 2 and Public.
Tier 1: The first NFTs will be offered, with 500 spots and a 100% chance to mint an NFT.
Tier 2: Up to 4,000 spots with a 35% (1400 NFT) chance to mint an NFT.
Public: 100% chance to mint on a first-come, first-served basis. Up to 400 entries are available.
While Tier 1 requires a Giveaway or other special way to win, Whitelist Tier 2 is easy to join and you can enter the giveaway by simply registering your email address at the official website.
To participate in the White List Tier 2 giveaway, register your email address at the official site!
Click here to register your e-mail address.
About Shatterpoint NFT
Shatterpoint has NFTs for heroes, runes and orthotics.
Hero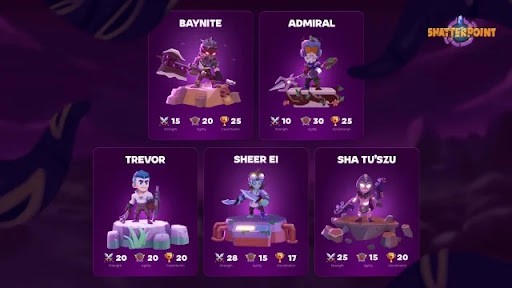 Heroes are the avatars of players in the game world. There are five main heroes
BAYNITE: Axe
ADMIRAL: spear
TREVOR: one-handed sword
SHEER EI: twin swords
SHA TU'SZU: two-headed pistol
All heroes have different combat abilities, which can be further enhanced by in-game equipment and characteristics.
Heroes can also be NFT'd; NFT'd heroes can be bought and sold in the marketplace
Rarity and Combat Capability
Heroes have three types of rarity: common, rare, and unique.
Heroes have five combat abilities
Vitality: The amount of damage a hero can take; when it reaches 0, the hero is defeated
Attack: The amount of damage that can be inflicted on the enemy
Defense: The amount of damage that can be reduce by the enemy
Accuracy: The probability that an attack is more likely to hit
Evasion: The probability that an attack is less likely to hit
Rune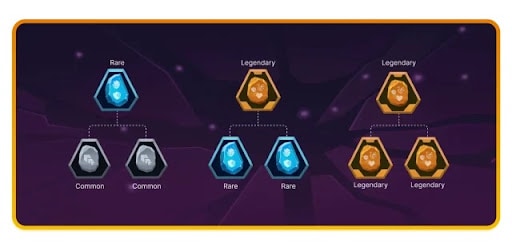 Runes are NFT items used to enhance the abilities of NFT heroes. To release the effects of the runes, you must spend $QUA tokens, the in-game currency.
Equipment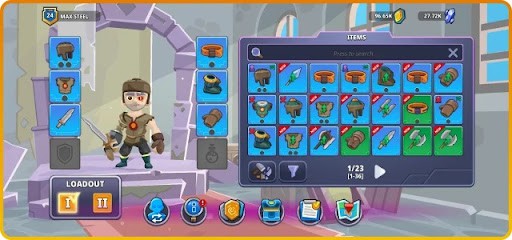 Capabilities are divided into three categories: offensive, defensive, and mobility.
Equipment have the ability to enhance the effects of equipped runes, such as the strength, range, and duration of the ability. You can enhance your hero's play style by combining the armor to match your hero's play style.
Weapons and Gloves
Weapons can attack the enemy with a variety of special moves, such as a whirlwind spinning from the air.
Gloves can inflict extra damage through the flames processed into the weapon.
Belts
Belts can enhance defensive abilities and bounce back damage.
Boots
Boots can help you escape from dangerous situations or rush into battle quickly.
About Shatterpoint Tokens (cryptocurrency)
$QUA Tokens
$QUA tokens are the in-game currency.
$SHA Tokens
The $SHA token is a Governance Token.
Staking Rewards
Marketplace NFT Trading
About Shatterpoint NFT Boxes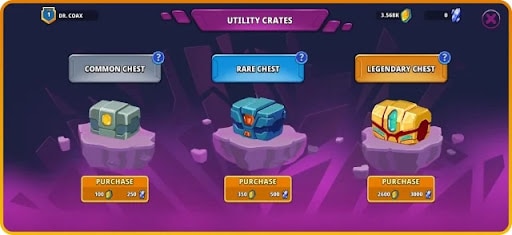 NFT boxes can be purchased for $QUA. Each box contains equipment and other items, with larger boxes offering a higher chance of obtaining rarer items.
How to earn money with Shatterpoint
Players can earn $QUA by playing the game.
Achievements: Extensive achievements for the most skilled and dedicated players to unlock and earn rewards.
Daily / Weekly / Seasonal Missions: There are daily/weekly/seasonal missions. Missions can be played in PvE and PvP modes and earn $QUA incentives.
Tournaments & Special Events: Players have the opportunity to earn $QUA in a series of tournaments, exciting game modes, and special events.
Betting PvP Fights: Players can wager $QUA and compete in a number of PvP modes, with the winners splitting the prize pool.
Summary
Shatterpoint is an NFT game being developed by a major game developer.
Besides a very interesting and promising gameplay, it also has some unique elements such as a season system.
This is an NFT game that is bound to be exciting in the future, so check it out while you can! There is still time to participate in the White List Tier 2 giveaway.
If you are interested in getting started with Shatterpoint, please refer to this article.
Mint Your Free NFT Badge and Enter Our Exclusive Giveaway – Limited Time Offer!
Mint your own SGG NFT Badge today and join the exclusive SGG member community! And that's not all – only SGG NFT Badge holders will be able to participate in our exciting Giveaway project! So don't miss out on this exclusive opportunity to win valuable rewards.
Our NFT badges are issued automatically by the SGG app and are based on the ERC-4907 standard, an upgraded version of ERC-721. By keeping your SGG NFT Badge in your wallet, you'll gain access to all of the amazing features of the SGG app, including NFT Lending, NFT Auction, Gacha, and more.
Ready to start monetizing your NFTs and enjoying the exclusive benefits of SGG membership? Mint your SGG NFT Badge today and join the revolution of NFT-based gaming!
JOIN Samurai Guild Games! Read here <https://samuraiguild.io/guide-to-enter-samurai-guild-games-giveaways/>