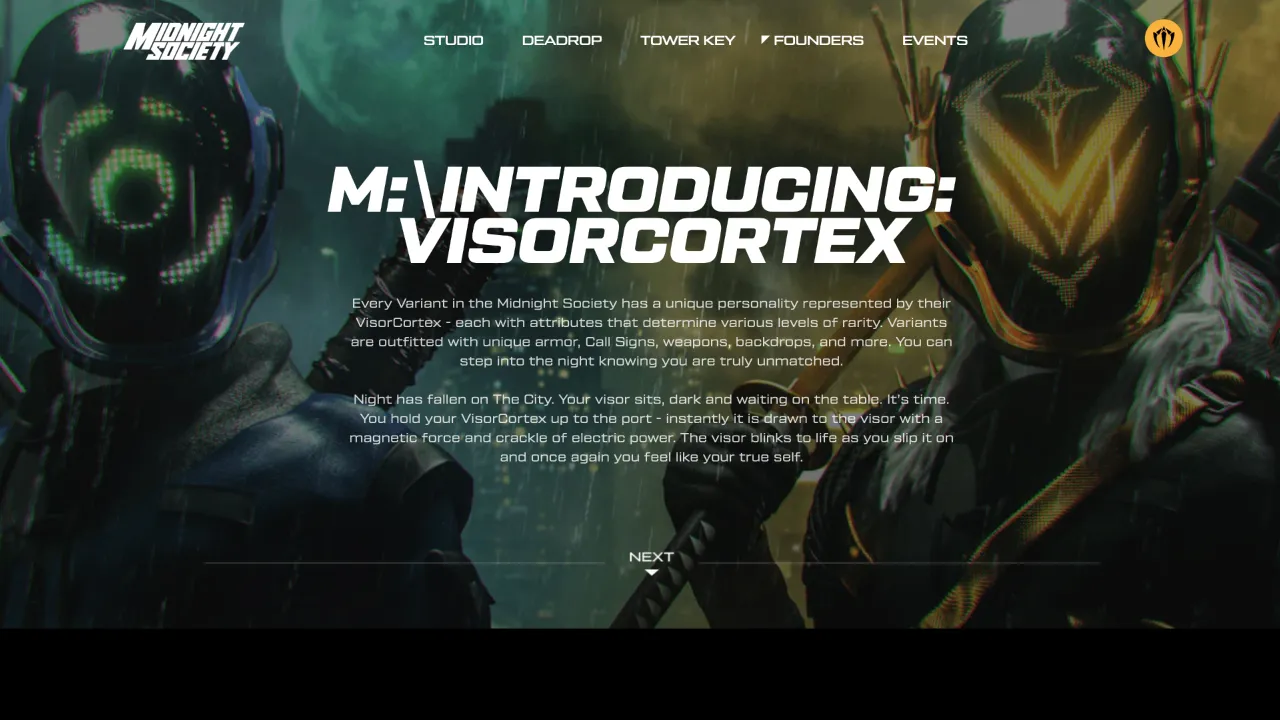 What is the game studio MIDNIGHT SOCIETY? An overview of Early Access Pass NFTs and DEADROP game
Midnight Society, a game studio led by over 50 former developers of popular games like Call of Duty, Fortnite, and Halo, as well as famous game streamer Guy "DrDisrespect" Beahm, is generating a lot of excitement as a community-driven game studio. While it differs slightly from other NFT games, utilizing blockchain technology is only a small part of their unique approach. They incorporate a decentralized development process that takes into account user feedback while also utilizing NFTs. In this article, we'll explore Midnight Society and their currently playable shooting game, DEADROP. Please take a look for reference.
What is MIDNIGHT SOCIETY?
MIDNIGHT SOCIETY is a new type of game studio that has been in development for over a decade. It is led by four key members, including popular game streamer Guy "DrDisrespect" Beahm, and over 50 former developers of popular games like Halo, Call of Duty, and Fortnite.
Types of Day Zero Community Members
MIDNIGHT SOCIETY's mission upon its establishment was to create new ways for the community to participate meaningfully in the development process. The Day Zero Community includes hundreds of thousands of community members who have signed up to provide feedback on the game. There are primarily two types of community members:
Claws
Community members who participate as "Claws" serve as combatants in games produced within the society. There are also many other ways to participate in MIDNIGHT SOCIETY besides enjoying the games.
Variants
Within the Claws are members called "Variants." Those who possess the first access pass series, "Founders Access Pass," become a Variant. The Founders Access Pass is held by 10,000 community members and is currently being traded as an NFT on OpenSea.
Early Access Pass NFT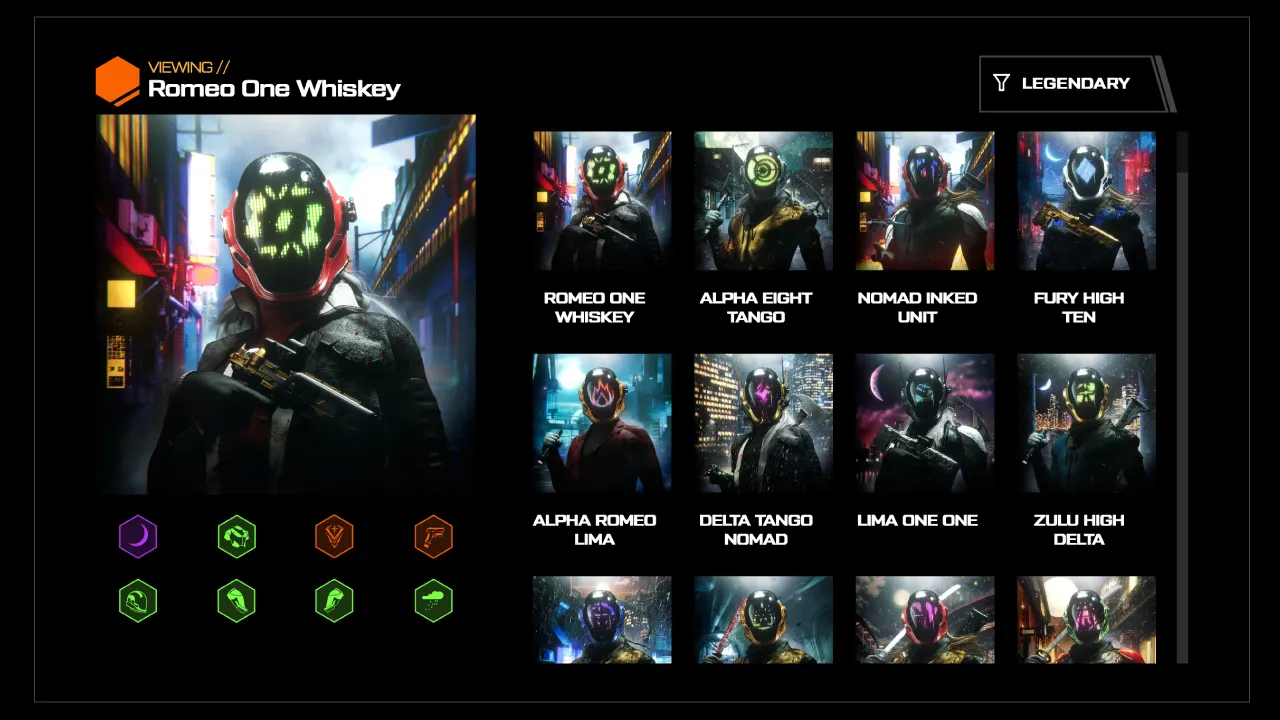 The first access pass series, "Founders Access Pass," features character designs wearing a helmet called VISOR CORTEX. Each one is a unique NFT (ERC-721) with individual rarity, parameters, and designs, such as unique armor, call signs, weapons, and backgrounds. The pass is limited to 10,000 units and is currently available for secondary purchase on OpenSea. However, you can also wait for future access pass releases.
Founders Access Pass comes with the following benefits:
MIDNIGHT SOCIETY's call signs and VISOR CORTEX
Early access to game builds and weapon testing
Voting rights on game features
Participation in limited events
Rights to be the first to receive goods and future VISOR CORTEX drops
Early access to become an "Eyes"
Eyes are holders of the Industry Pass who form a guild that performs all manufacturing of weapons, mercenaries, and skins used by Claws in MIDNIGHT SOCIETY's universe. Access pass owners gain early access and veto power to become an Eyes.
What is the game DEADROP?
DEADROP is a new free-to-play, first-person, vertical escape shooting game set in a dark and violent future, developed by MIDNIGHT SOCIETY. To play DEADROP currently in development, you need to purchase either a Founders Access Pass or a DEADROP TOWER KEY.
About the TOWER KEY
To play DEADROP without a Founders Access Pass, you need a TOWER KEY, which is sold for $25 on the official DEADROP website. The benefits of the TOWER KEY are mainly as follows:
Early access to development builds, Snapshot V and beyond
Season 0 Battle Pass (available for purchase when Season 0 is released)
Exclusive skins for early access players only
Invitations to special gameplay events
Hidden exclusive items
Exclusive streaming rights
Unique Claw ID
Recommended PC specifications
The recommended PC specifications for DEADROP are as follows:
Windows 10
Core i7 CPU
16 GB RAM
20 GB of available HDD space
NVIDIA RTX 2060
Summary
MIDNIGHT SOCIETY is a promising game studio led by influencers and former developers of popular games. They have formed a completely new, user-driven, decentralized community from the development stage. While their use of blockchain technology is currently limited, their emphasis on decentralization makes them more appealing than other NFT games. If you're interested, check them out now. We hope this article was helpful.
Mint Your Free NFT Badge and Enter Our Exclusive Giveaway – Limited Time Offer!
Mint your own SGG NFT Badge today and join the exclusive SGG member community! And that's not all – only SGG NFT Badge holders will be able to participate in our exciting Giveaway project! So don't miss out on this exclusive opportunity to win valuable rewards.
Our NFT badges are issued automatically by the SGG app and are based on the ERC-4907 standard, an upgraded version of ERC-721. By keeping your SGG NFT Badge in your wallet, you'll gain access to all of the amazing features of the SGG app, including NFT Lending, NFT Auction, Gacha, and more.
Ready to start monetizing your NFTs and enjoying the exclusive benefits of SGG membership? Mint your SGG NFT Badge today and join the revolution of NFT-based gaming!
JOIN Samurai Guild Games! Read here <https://samuraiguild.io/guide-to-enter-samurai-guild-games-giveaways/>