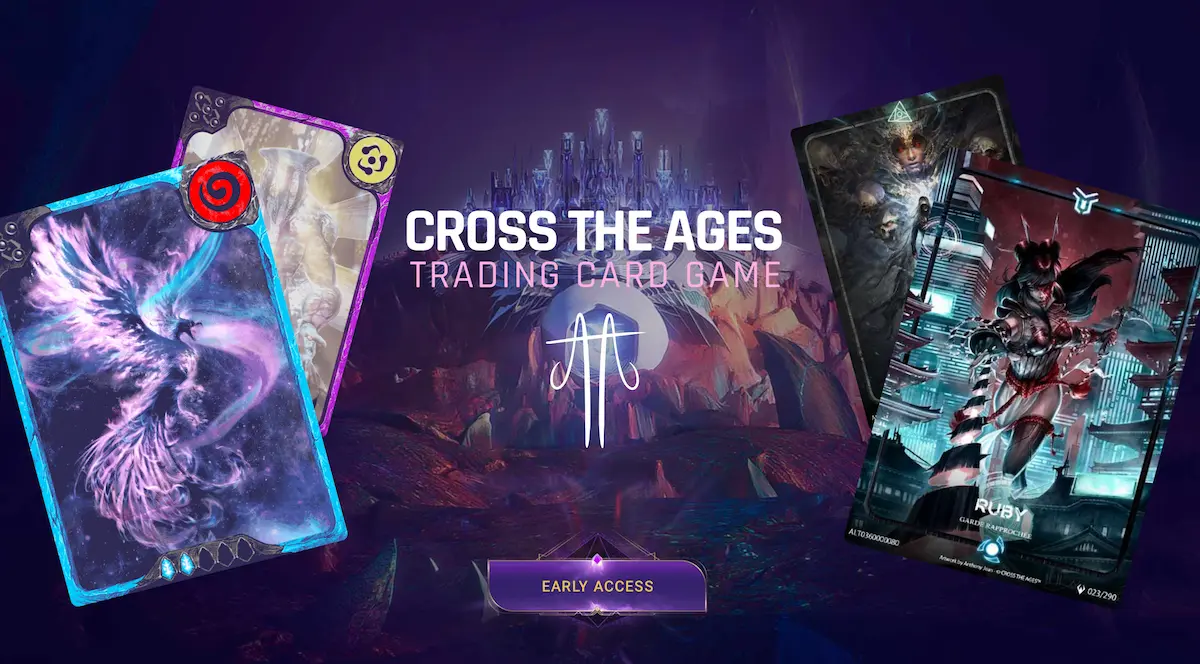 CROSS THE AGES NFT(Crypto) Game Review | How to Play
Introducing CROSS THE AGES, an NFT game and a full-fledged TCG (trading card game).You can play with cards with beautiful graphics created by our many exclusive designers. You can play without paying.The fact that the card packs are already available at Oppensea and are being sold for very high prices shows the high expectations.This article provides an overview of CROSS THE AGES, how to get started, and how to earn money. Please refer to it.
CROSS THE AGES has also been selected for the following summary article.
What is CROSS THE AGES? How to play and types of NFT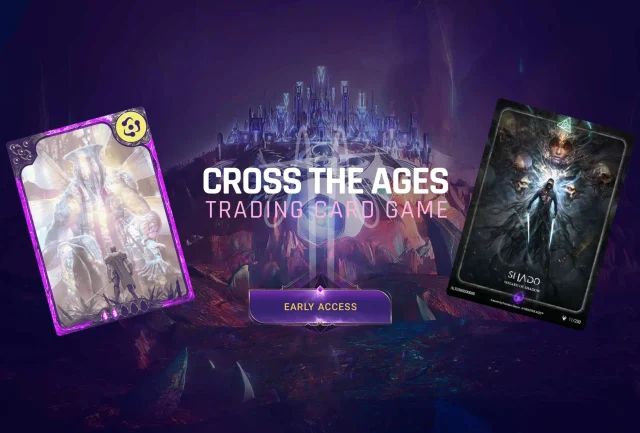 Cross The Ages is a trading card game using NFT.It will be free to play on Mac and Windows, as well as Android, iOS, and other smartphones.As of January 2023, early access is only available to those who have card packs traded on Opensea and other sites.
The game is based on seven free-to-read novels that will be written, published and translated into multiple languages over the next few years.
Like Gods Unchained, a well-known NFT-based TCG, it is developed on Immutable X, a layer 2 solution for Ethereum. Card packs traded on Opensea and elsewhere are actually played on the Polygon Chain by using the need to be bridged to Immutable X.
One of the biggest differences from other games is that we plan to take a physical approach. The plan is to link the digital asset, the NFT, to the actual card. It is planned to be possible to create NFTs from real cards by placing a smartphone close to the real card and using near field communication NFC, the same short range wireless communication used for My Number cards, wallet phones, etc.
Basic game content
(1) About the card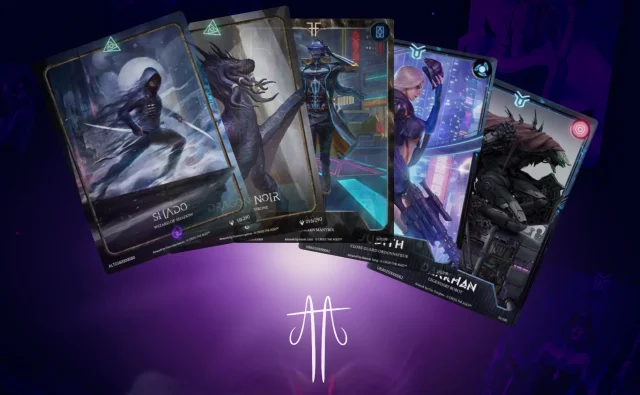 The cards have the following status and specifications
ELEMENTS: represents the elements. It helps to activate effects such as Advantage and Affinity.
RARITY: The edges indicate the rarity of the card.
POWER VALUE: Indicates the strength of the card.
GRADE: Indicates 5 levels. The level has no effect on the game.
Battle Card: A Battle Card is a card that is played on the board to take away an opponent's hand or to defend your position.
Leader Card: When you build your deck, you select the Battle Card that will be the leader. The leader card must be drawn at the beginning of each game. When played, the leader card activates a Special Attack (Special Move). You can select a Special Attack when building the deck and attach it to the leader. As long as the leader is in position, the chain counter is increased by one.
Field Card: A Field Card is a special card that can change the element of the board and boost all cards of the same element. This effect lasts for 3 turns and can be negated by other field cards.
(2) About the deck
A deck consists of no more than 20 cards, including battle cards, field cards, etc., with a power limit of 10,000.Also, the same card cannot be placed in the deck more than once. However, this is not the case if there is an "alternate version" of the card, which is treated as a different card from the regular version.Up to two field cards can be included in the deck. Since field cards do not have power, the deck cost is calculated in this way based on the amount of power increase.
C = P+(200 + 2*P)
(3) Rules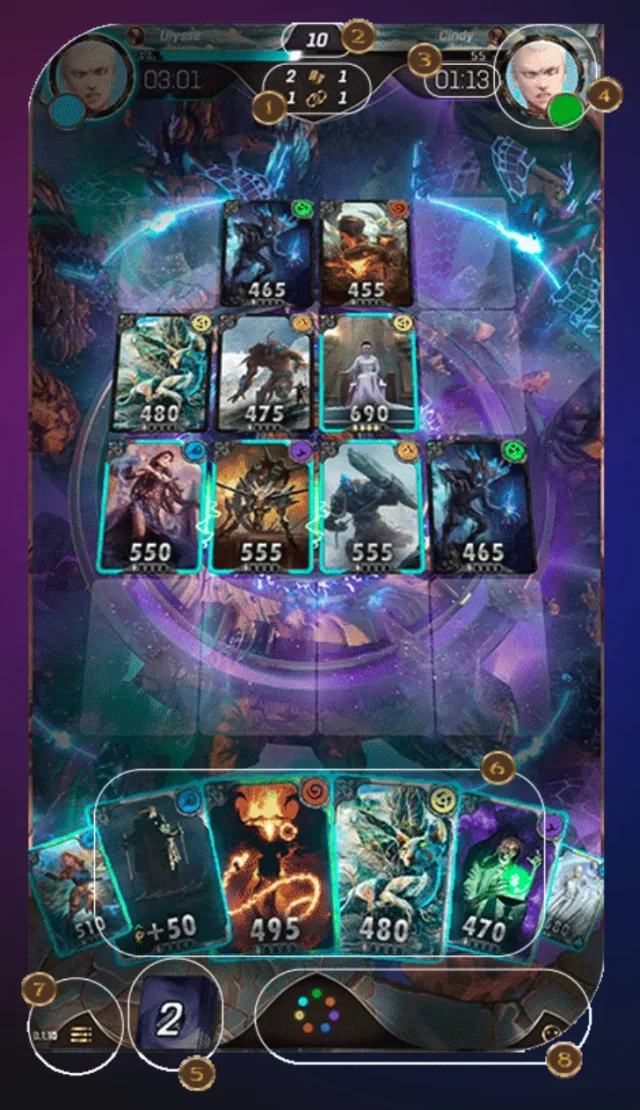 Cross the Ages is played on a grid of 4 squares multiplied by 4.Both players share the same board, and battle and leader cards are placed on the board when they are played.There are three ways to win at Cross the Ages.
The number of cards on the board at the end of the game is greater than the number of cards on the board than the opponent.
The opponent's time limit becomes 0.
If both players have the same eight cards on the board at the end of the game, the player with the most time remaining wins.
There are four main basic rules of the game.
A coin toss will determine the precedence.
Both players start with 10 cards, including the leader card.
Each player plays 8 turns alternately, for a total of 16 turns.
Each player has 5 minutes to play the entire match. (The countdown will pause when it is not your turn.)
The basic movements of a turn are as follows
Discard a card to draw a new card.
Play a field card. Your turn does not end when you play.
Play Battle Cards and Leader Cards. 1 card played ends the turn.
Capture
When you place adjacent cards above, below, left or right of an opponent's card, your card tries to capture the opponent's card. In this case, the attack is initiated simultaneously against all target adjacent cards. The attack is based on the card's power, including variations due to effects.If the attack is successful, you claim ownership of the card. The new card will then attempt to capture it, depending on the chain counter, which will be explained later.
Advantage (yellow line in the figure)
There are seven elements, each with its own advantage. When you capture your opponent's card, its power is enhanced. If your card's element is superior to your opponent's, your Battle Card receives a +150 bonus to its power when attacking. Conversely, if your card's element is less favorable than your opponent's, your Battle Card suffers a -150 power penalty when attacking.
Affinity
Affinity is a system that allows the power value of adjacent cards to be increased depending on their affinity. When affinity is created, the power of both cards is increased by +100. There are two types of affinities: "Simple Affinity" and "Double Affinity."Simple affinity (the purple dotted line in the diagram) is the affinity between two cards. Double affinity (the three adjacent elements in the diagram) is the affinity that exists between three cards. For example, the cards Air, Nature, and Earth together are double affinity.
Chain
Cross the Ages does not end the attack when it captures an opponent's card. If there is a chain counter, the captured card will also try to attack an adjacent card.Each player starts the game with a chain counter of 1. This means that all cards captured after an attack will attempt to attack once before the end of their turn.If your leader card is on the board and in your hand, your chain counter is increased by one. If you have two chains, you may attack a total of three times in a row, counting from the first attack. If you lose control of your leader, you lose one chain.

Phase 1: Cards can attack in all directions.
Phase 2: If your cards are stronger, you capture your opponent's cards.
Phase 3: Captured cards attack in all possible directions by chain counters. When the chain ends, the turn ends.
~cara bermain~
How to start Cross the Ages and purchase card packs
As of Febrary 2023, only Early Access has been released and the card pack NFT must be purchased to start the game.
Advantages of Card Pack NFT
Early Access
Token airdrop
Participation in CTA Token Presale
STEP 1. Get the card pack
From the Cross the Ages website, you can select BUY PACKS, choose a pack and purchase it from GRAB ONE from any of the NFT marketplaces OpenSea, Rareble or NFTrade. You will need to have ETH in the Polygon chain as it is traded on the Layer 2 Polygon chain.
There are five types of packs.Each pack will have a different rarity inclusion rate for NFTs and a different number of cards, as well as a different number of CTA tokens to be airdropped.Card packs may also come with Airdrop and presale access to CTA tokens, as well as discounts.
STEP 2. Bridge to Immutable X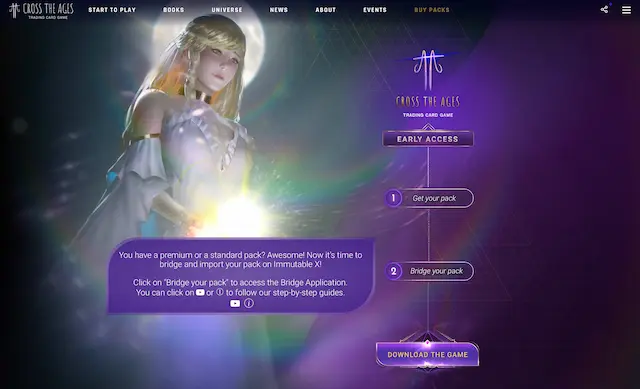 Once you have your pack of cards, select Early Access in the upper right corner of the Cross the Ages homepage and choose Bridge Your Pack.
Sign UpUsername
・First Name
・Last Name
・Email Address
・Password 2 times
・Enter "I Agree~" and check the "I Agree~" checkbox, then Sign Up.
Select the link in the email sent to you to activate your account.
Log in with your email address and password from Sign In.
*Prepare a wallet Metamask of purchased addresses for card packs with the network set to the Polygon chain.
Connect your Metamask Wallet
Select the card pack you wish to bridge and choose Bridge.
If you want to check if the card has been bridged securely, you can do so by searching for your address in Immutable X's Explorer Immutascan.
STEP 3. Download Game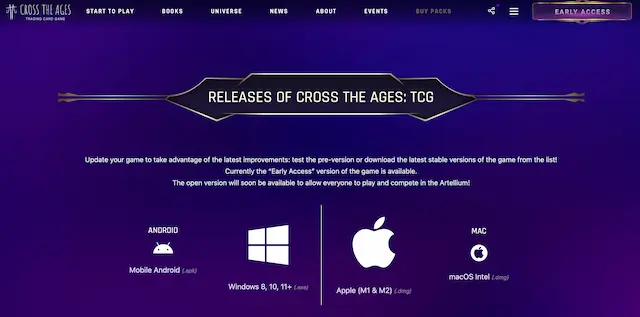 Now you can download the game by going to DOWNLOAD THE GAME and selecting from Mac, Windows, or Android.
About Cross The Ages tokens (cryptocurrency)
Cross The Ages will be available in three currencies: Trisel, Prana, and CTA tokens.
Trisel
It is used to convert between in-game assets such as crafts, and for free decorations such as sounds, emotes, and card backsides. Available only by playing the game.
Prana
It is mainly used to acquire off-chain assets such as chests and paid decorations. They can be purchased in the in-game store and have fixed prices.
CTA token
It is used for all on-chain activities such as minting cards, trading, entering tournaments, converting NFT cards to physical cards, etc. It can be purchased in the in-game store and converted from Prana to be available on-chain. Prices will be fixed until they are listed on the exchange. Purchasing a pack of cards also gives you CTA Airdrop, presale access, discounts, etc. You can also receive NFT cards on loan or staking.
How to earn money with Cross the Ages
Cross the Ages offers the following main ways to earn money
Earning and minting Trisel in card battles
Earn through merging and lending.
Earn money in Staking
(1) Earning and minting Trisel in card battles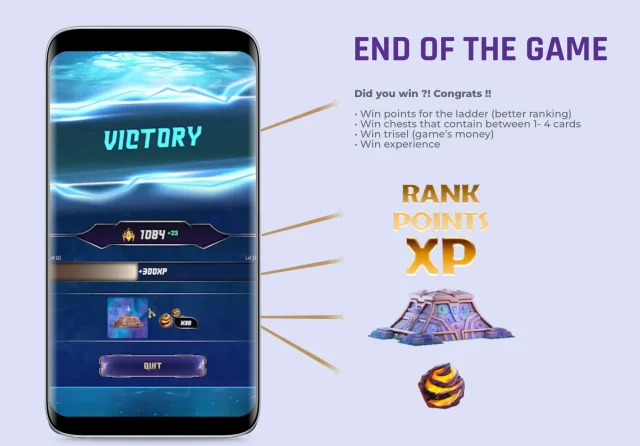 This is the most basic way to earn money.Winning or drawing in a PvP duel earns you a Trisel.You can also earn Trisel by completing daily missions.With this Trisel, NFTs can be cast from digital cards.If you sell that NFT in the marketplace, you will earn CTA tokens.An e-Sports tournament will be held in 2023.
(2) Earn money through merging and lending.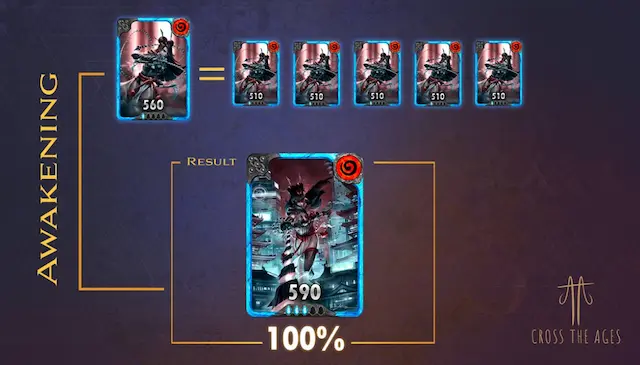 Merging multiple NFTs creates a rarer and more valuable NFT. It will have the potential to sell for a higher price on the market.Players can also rent out their NFTs to other players and earn CTA tokens in exchange.
(3) Earning by staking
CTA tokens can be staked.
Summary
Cross the Ages is a full-fledged TCG with beautiful graphics.In the future, the sale of actual cards will make the trading card game more accessible to those who have never played NFT before.Buying a Standard pack now that comes with early access and token airdrops may earn you big profits later.
Mint Your Free NFT Badge and Enter Our Exclusive Giveaway – Limited Time Offer!
Mint your own SGG NFT Badge today and join the exclusive SGG member community! And that's not all – only SGG NFT Badge holders will be able to participate in our exciting Giveaway project! So don't miss out on this exclusive opportunity to win valuable rewards.
Our NFT badges are issued automatically by the SGG app and are based on the ERC-4907 standard, an upgraded version of ERC-721. By keeping your SGG NFT Badge in your wallet, you'll gain access to all of the amazing features of the SGG app, including NFT Lending, NFT Auction, Gacha, and more.
Ready to start monetizing your NFTs and enjoying the exclusive benefits of SGG membership? Mint your SGG NFT Badge today and join the revolution of NFT-based gaming!
JOIN Samurai Guild Games! Read here <https://samuraiguild.io/guide-to-enter-samurai-guild-games-giveaways/>