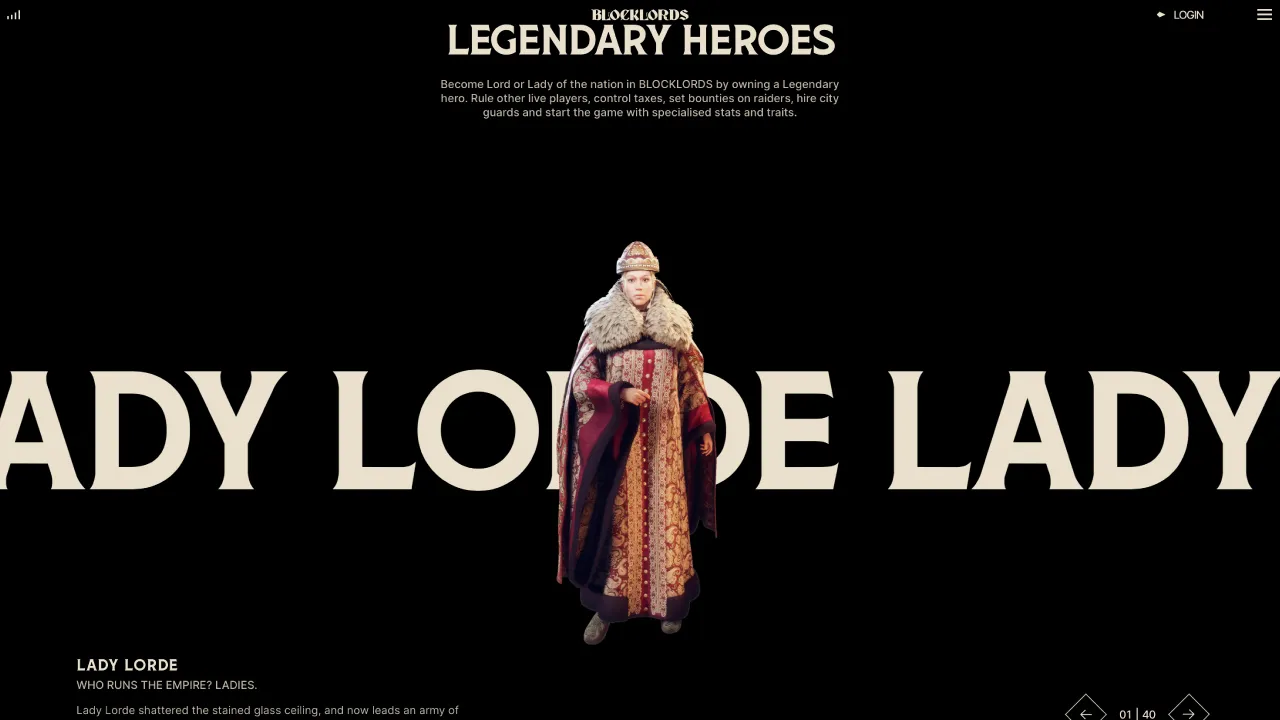 BLOCKLORDS NFT Game Review | How to Start
BLOCKLORDS is a simulation NFT game set in a medieval world. It offers various interesting play styles such as gameplay, farming, fighting, resource management, and domination, allowing players to earn rewards in every way possible. The game graphics are of high quality, and it is an eagerly anticipated NFT game with an official game launch. This article explains the features and how to get started with BLOCKLORDS, so please use it as a reference.
BLOCKLORDS has also been selected for the following summary article.
What is BLOCKLORDS?
BLOCKLORDS is a simulation NFT game set in a medieval world. Players choose various roles such as farmer, knight, raider, lord, lady, and ruler in the game. Each player's individual decisions and skills affect the game's story and world. Regardless of whether they choose to lead a fulfilling life on a farm or execute grand strategies to ascend to the throne, the game's future is determined by the choices of in-game players. By the way, the above game trailer has already received over 1.1 million views, indicating the high level of attention from the world.
Players have four basic roles to choose from in BLOCKLORDS:
Let's explain each of them in order.
FARM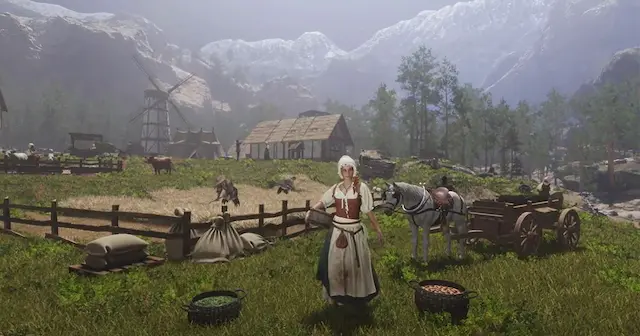 Farmers have the role of collecting, mining, processing, and creating materials and refining them into usable currency. If you don't yet own a character, you will start playing BLOCKLORDS as a Farmer. Each region is ruled by a Lord or Lady.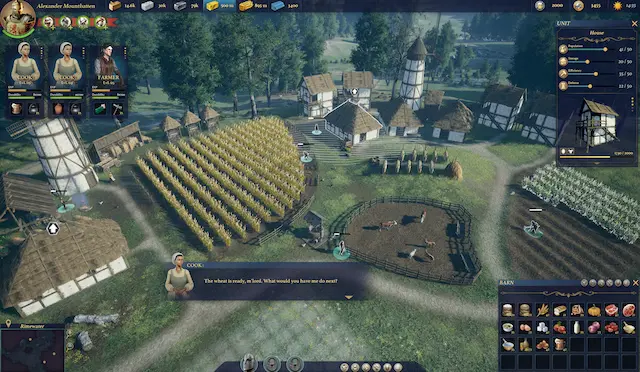 By creating better items and buildings and trading them on the market, players can explore multiple ways to generate profit. And by cooperating, they can earn bigger rewards.
FIGHT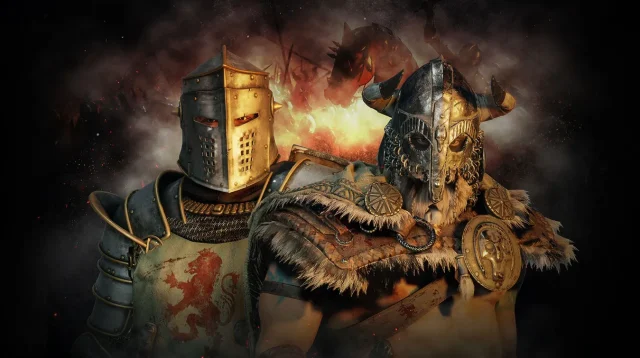 If farming is not suitable, players can choose to build an army, which opens up two more paths: Knights or Raiders.
Raiders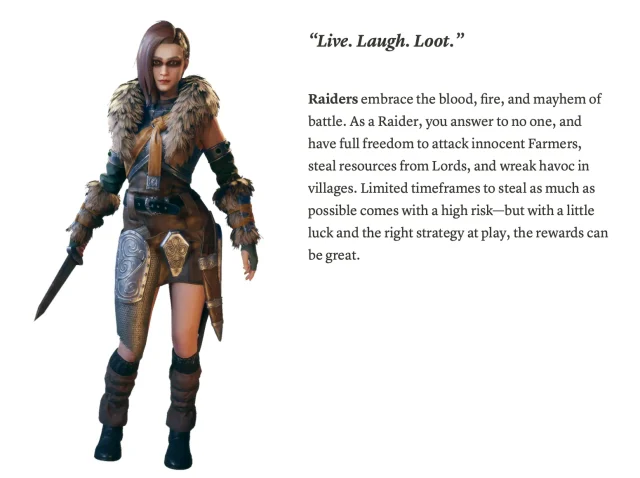 Raiders are, in a way, outlaws. As a Raider, you have complete freedom to attack innocent farmers, steal resources from Lords, and bring chaos to villages. The longer you loot, the greater the risk, but with a bit of luck and proper strategy, you can earn huge rewards.
Knights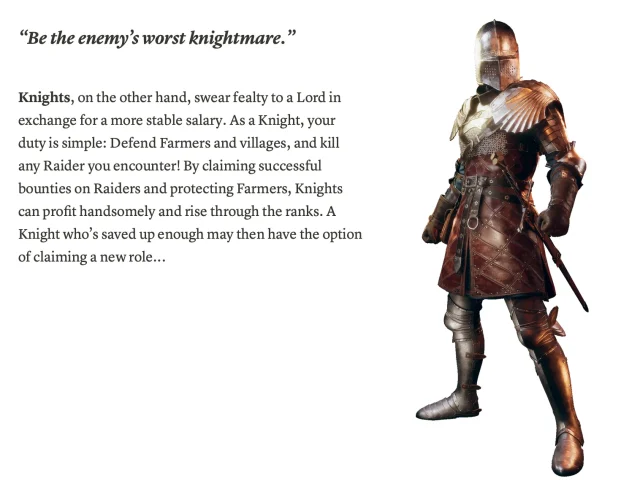 Knights pledge loyalty to Lords in exchange for a more stable income. As a Knight, your mission is to protect farmers and villages and defeat encountered Raiders. By giving bounties to Raiders and protecting Farmers, Knights can earn big profits and advance in rank.
RULE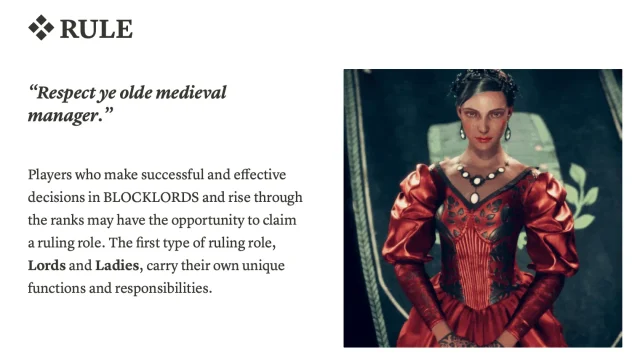 It is also possible to become a ruler. Specifically, there are Lords and Ladies.
Lords and Ladies rule over entire regions. In this role, your actions and choices have a direct impact on the world and surrounding players on an even greater scale. Lords collect taxes and resources from Farmers (including other players), provide rewards and salaries to Knights, and manage and develop cities and infrastructure.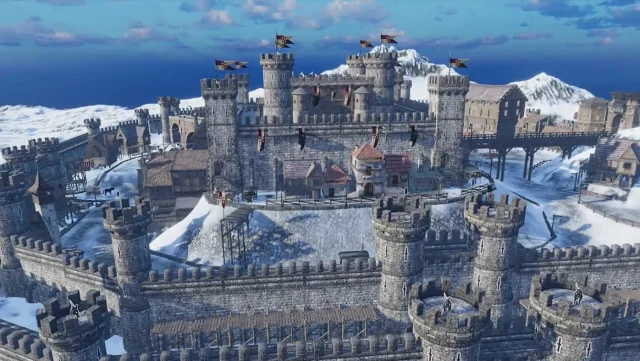 By allocating resources collected on the land, players can build and prosper cities as centers of advantageous trade and commerce. However, excessive taxes or greed may cause citizens to rebel.
CONQUER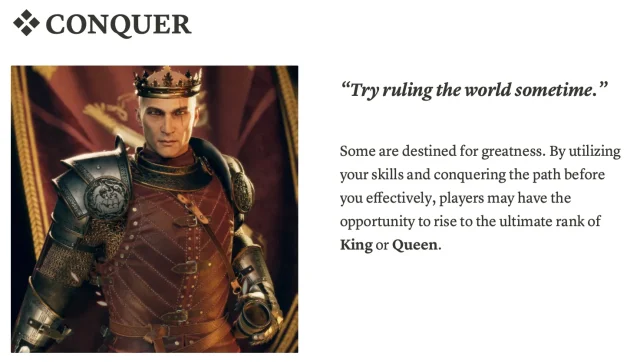 Kings or Queens are the highest authorities in the game and rule over the nation. As a King or Queen, it is your duty to determine the kingdom's priorities. This includes managing currency, national policies, diplomacy, trade agreements, and research available to the military and regions. They can also initiate wars that alter the territory on a national scale.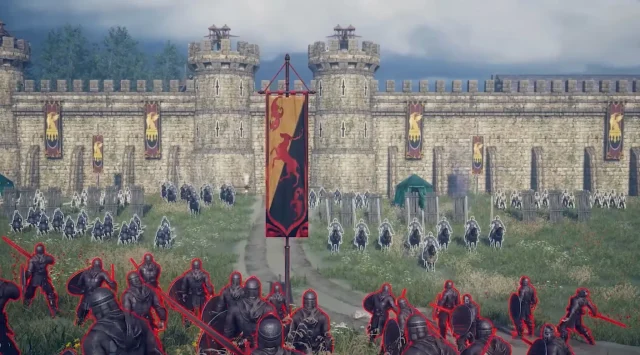 Winning a war not only earns rewards but also distributes rewards to other players who are your subjects.
NFT in BLOCKLORDS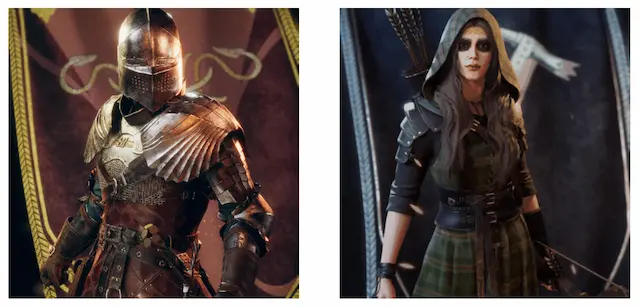 BLOCKLORDS has NFTs called HEROS. HEROS have unique individual stats when created.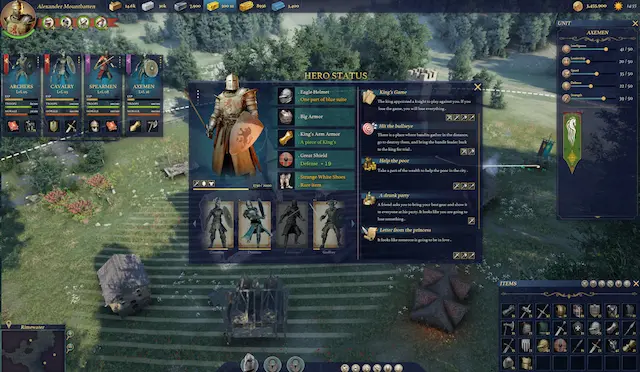 At the start of the game, players acquire HEROS as Farmers. As the game progresses, they are given opportunities to make new choices, evolve their characters, and ultimately determine the hero's path.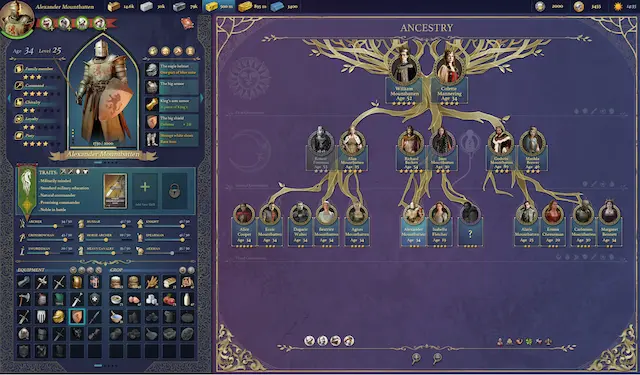 While all heroes have a lifespan, BLOCKLORDS has a system where hero's unique traits and attributes can be inherited through descendants. This way, the legacy of beloved heroes continues to live on and become even more powerful across generations, regardless of fate.
How to start BLOCKLORDS
Although gameplay is not yet available, it is possible to purchase Hero NFTs on the official website. By owning HEROS, you can participate in the early access of Blocklords, so please consider making a purchase if interested. There are two ways to obtain Hero NFTs: purchasing them on the marketplace or buying and claiming materials (Banners) on the marketplace. Prices do not differ significantly, but buying and claiming Banners can allow for slightly cheaper ownership of Hero NFTs. (As of April 2023, the lowest price is around $7.)
Step 1: Register for Blocklords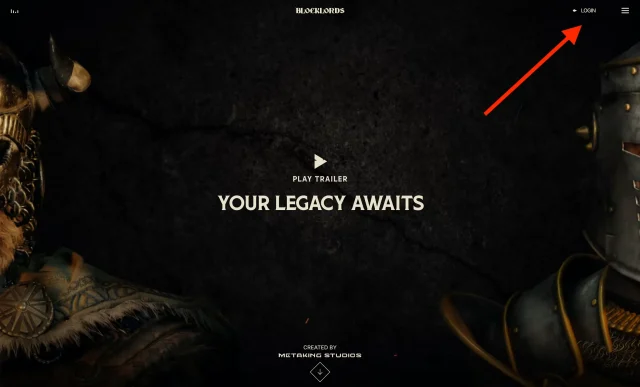 Access the official website and register with a Google or Facebook account.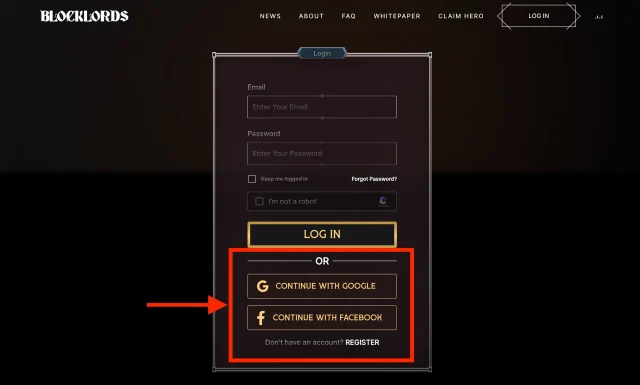 Step 2: Obtain HEROS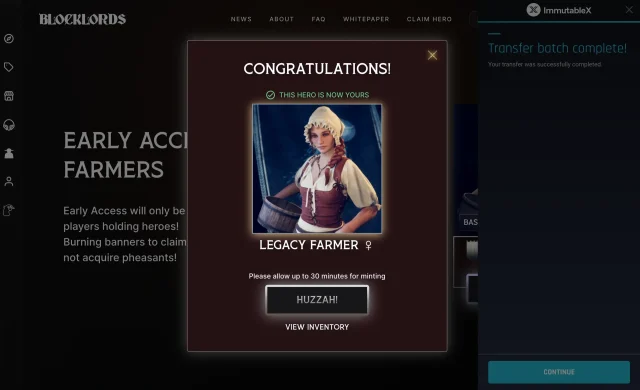 Select "CLAIM NOW" from "CLAIM HERO" to claim HEROS. (Note: HEROS can also be purchased separately on the marketplace.)

If you lack the necessary materials (Banners), purchase them on the marketplace.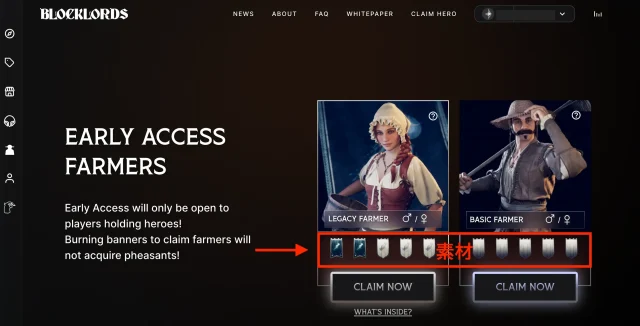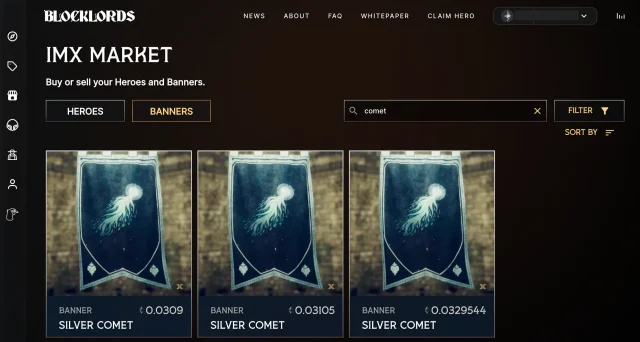 Gender selection is also available during claiming.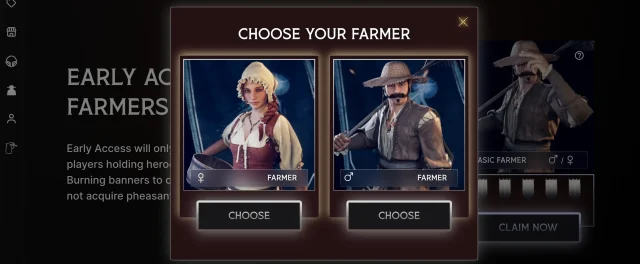 Claimed Hero NFTs can be viewed from your profile.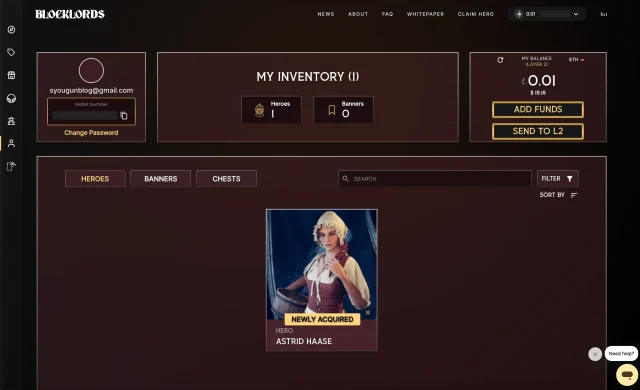 Summery
In summary, BLOCKLORDS is a highly anticipated NFT game set in a medieval world that offers players a wide range of play styles, including farming, fighting, resource management, and domination, with high-quality graphics. Players can choose various roles that impact the game's story and world, and their individual decisions and skills determine the game's future. With over 1.1 million views on its official game trailer, BLOCKLORDS is undoubtedly an exciting addition to the NFT gaming world.
Mint Your Free NFT Badge and Enter Our Exclusive Giveaway – Limited Time Offer!
Mint your own SGG NFT Badge today and join the exclusive SGG member community! And that's not all – only SGG NFT Badge holders will be able to participate in our exciting Giveaway project! So don't miss out on this exclusive opportunity to win valuable rewards.
Our NFT badges are issued automatically by the SGG app and are based on the ERC-4907 standard, an upgraded version of ERC-721. By keeping your SGG NFT Badge in your wallet, you'll gain access to all of the amazing features of the SGG app, including NFT Lending, NFT Auction, Gacha, and more.
Ready to start monetizing your NFTs and enjoying the exclusive benefits of SGG membership? Mint your SGG NFT Badge today and join the revolution of NFT-based gaming!
JOIN Samurai Guild Games! Read here <https://samuraiguild.io/guide-to-enter-samurai-guild-games-giveaways/>